GETTING THE MOST OUT OF YOUR GARDEN
Welcome to Brian's Blog.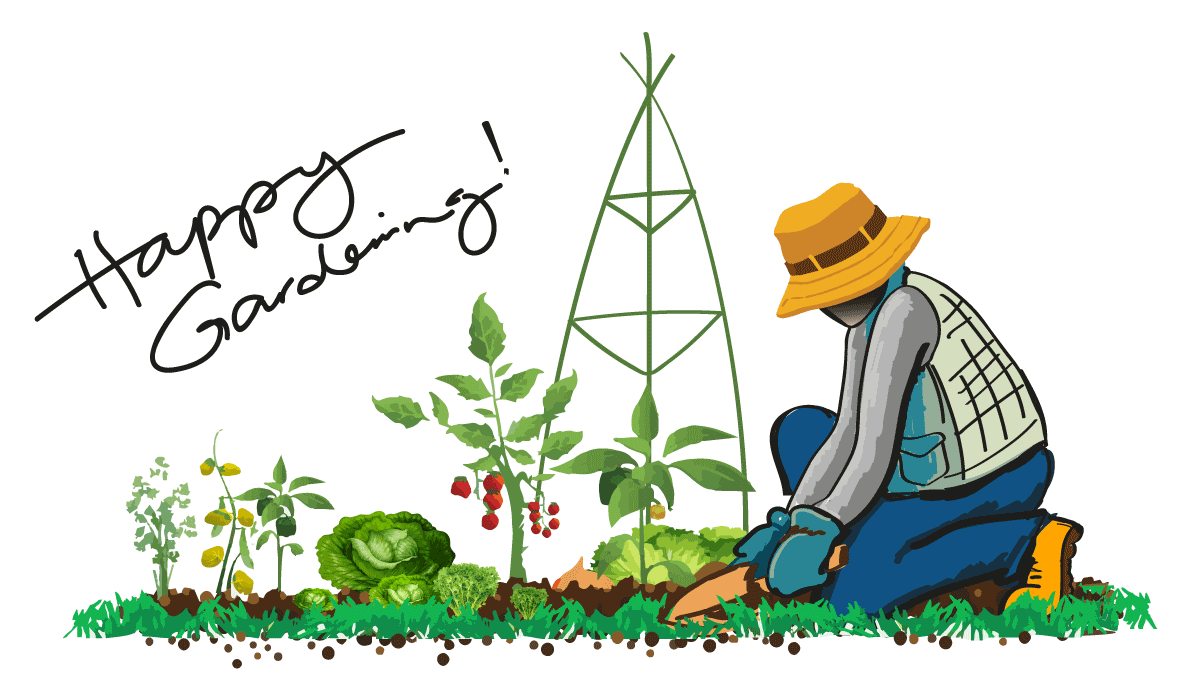 Brian - a self-confessed non-expert - relies on his great experience and sense of adventure to grow the best vegies at home.
Scroll down for his latest blog or click on a topic to see what he's been up to.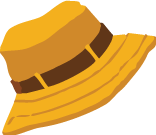 3rd June 2019 Winter is Coming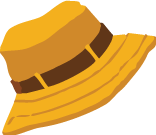 26th May 2019 Getting Wise With Water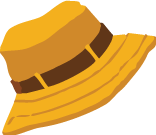 1st March 2019 Spicing It Up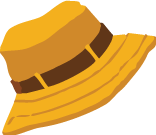 19th November 2018 Encouraging Flowering Cacti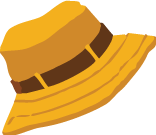 26th October 2018 A Tale of Two Garden Beds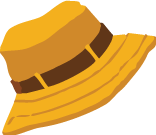 21st October 2018 Rain Havoc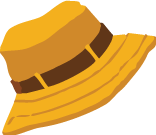 18th October 2018 Time out for Cacti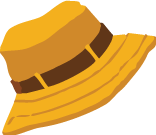 15th October 2018 A New Garden Bed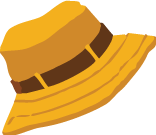 6th October 2018 Rain & Snails / Tomato Maintenance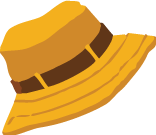 1st October 2018 Mini Market Garden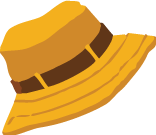 25th September 2018 Planning Ahead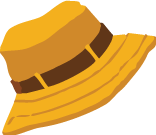 12th September 2018 Let Nature Do The Work For You / It's All About Light and Shade
________________________________________________________________________________________________________
3rd June 2019
Winter is Coming
As someone reminded me recently, winter is just around the corner.
So taking advantages of the beautiful sunny autumn weather, I spent a great weekend cleaning up and generally getting reacquainted with my garden, which has been a little neglected these past few weeks.
LATE SEASON HARVEST
As spring comes to an end, the last of the chillies are coming through. The red one is a Poblano. It was mild and we used it in everything.

The yellow ones are a Japanese variety. They were very prolific and had a little bit of heat. I kept a few and are drying them out for next year.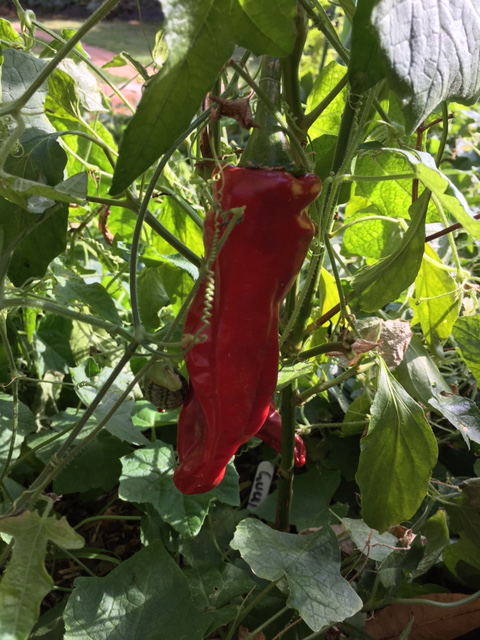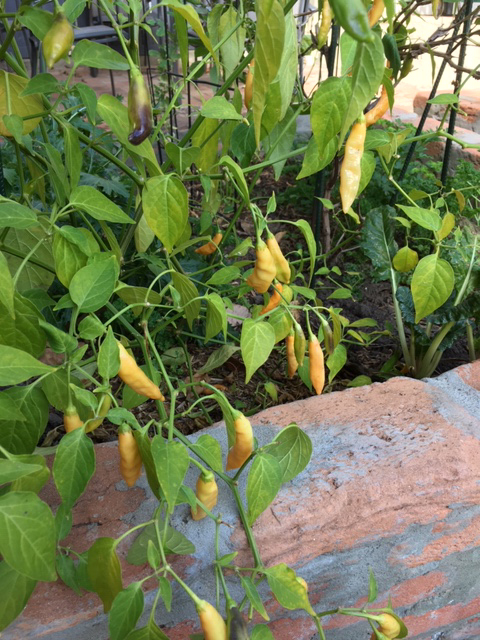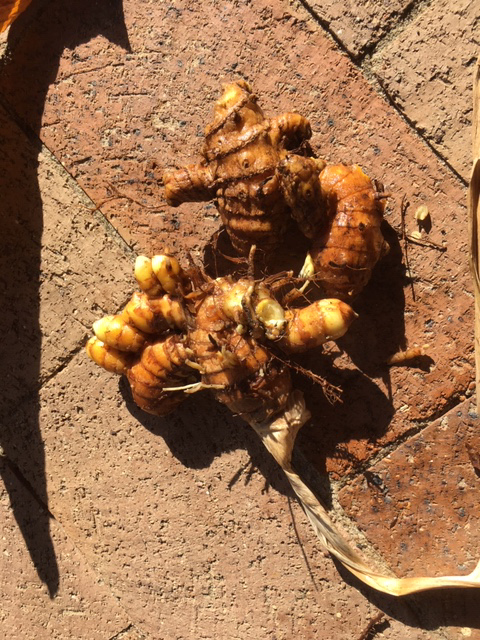 The leaves on the turmeric plants have died off and shrivelled up for the year, so the tubers are ready to harvest. Use fresh and it will keep for ages.
WHAT'S GROWING
As the weather gets colder, the garden is still producing.
Snow peas seem to love this weather and they are growing well.
The bees are still buzzing around, visiting the feeding off the Thai basil and the peas.
The parsley has taken off and I wish it was like this a few months ago, as we never seem to have enough.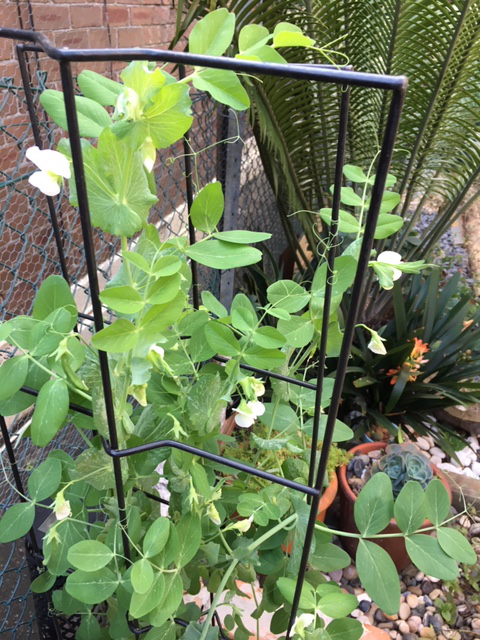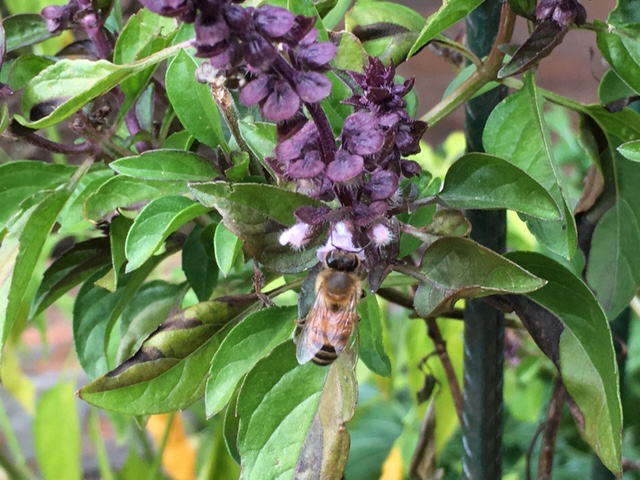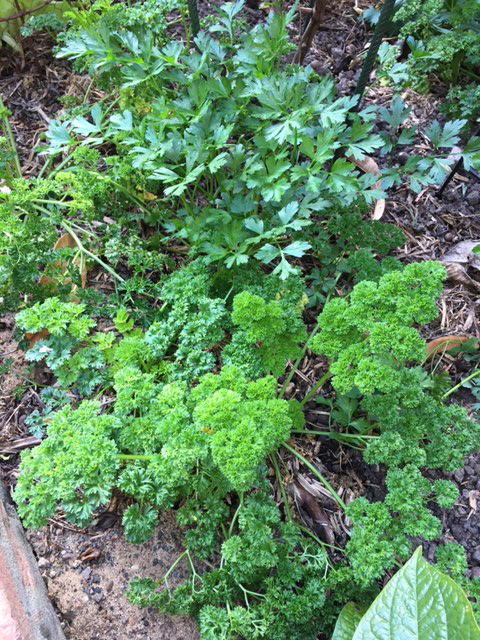 CUCAMELON RECIPE!
I planted these cucamelons or Mexican mini melons as an experiment and they have been a surprise package.

They have been prolific growers, required very little maintenance and taste great.

I have left the plant in the garden and will see if it makes it through the winter as it's still growing and producing.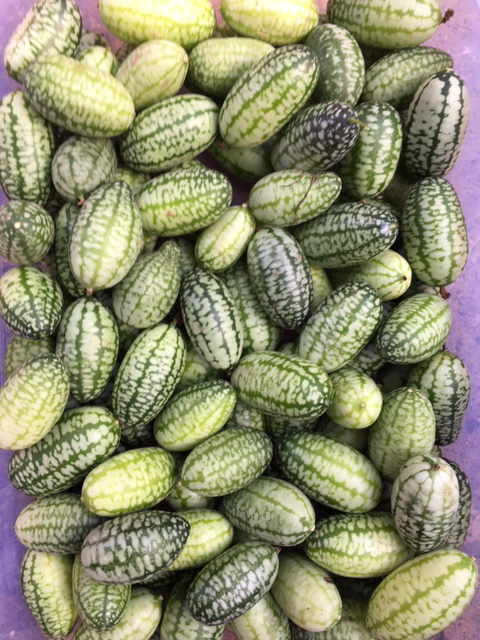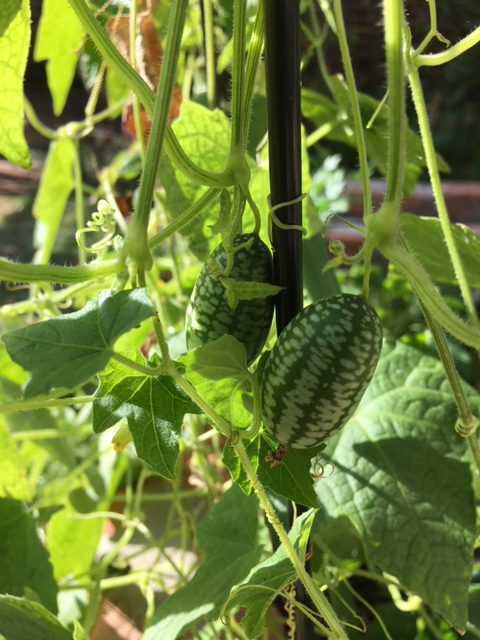 I started off eating them as a snack or using them in a salad but I had too many so I found this easy pickle recipe to help use them up.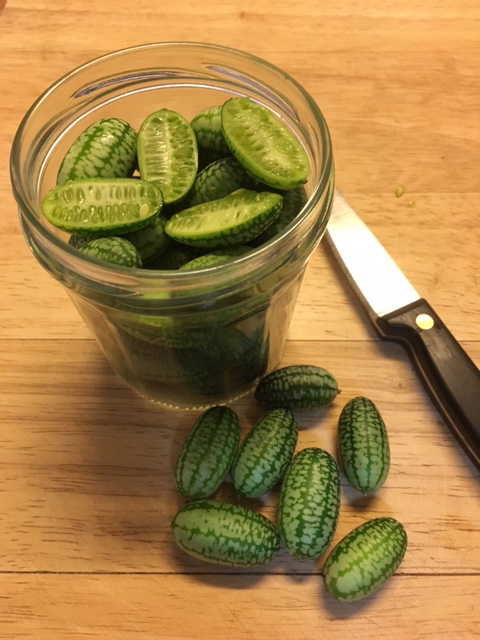 Have a look on the web as there are lots of recipe variations; here's mine for good measure - Enjoy!
1. Cut up or halve 1½ cups of cucamelons, mix with teaspoon of dill seeds and ½ teaspoon of celery seeds and place in a clean jar (make sure it has a lid that fits well and creates a seal).
2. Mix ¾ cup of vinegar, 1/3 cup of water, 1 tbs of sugar and 1 tsp of salt and bring to a boil.
3. Pour the liquid over the melon pieces and fill to about 6mm from the top of the jar. Seal, let it cool and refrigerate for at least 2 days before eating. Will last up to 2 weeks.
Until next time,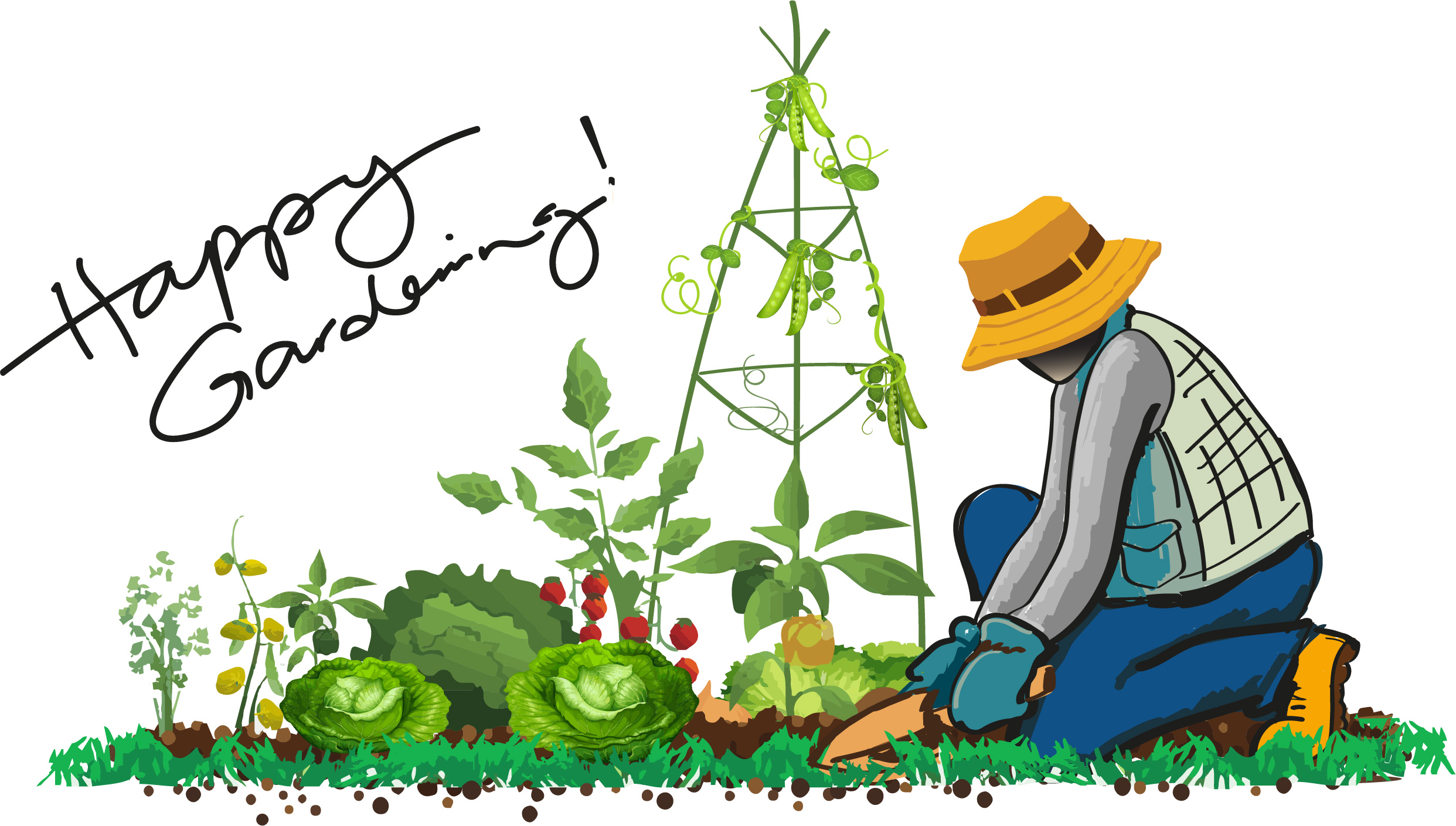 ---
28th May 2019
Getting Wise with Water
With water restrictions starting to kick off in Sydney this weekend, it's a great reminder to start early preparations for what could be a long dry spring and summer.
One of the easiest and cheapest ways to protect your garden from drying out is to use mulch, and I will show you an easy way to make "homemade" mulch for free.
The other big benefit of this mulch is that it will break down over time and provide organic matter for your soil.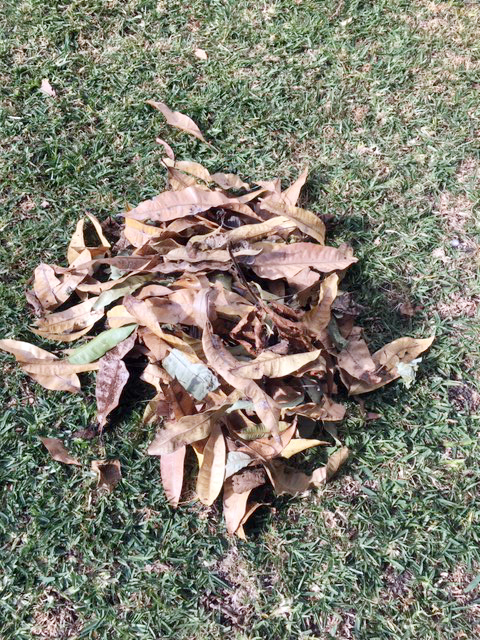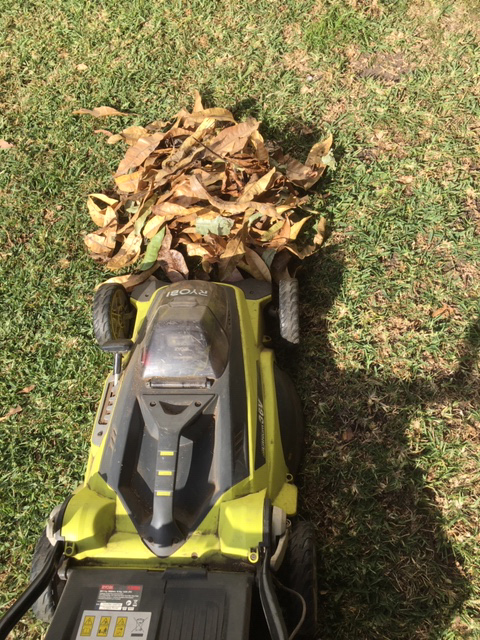 Step1: Pile up your leaves and garden clippings into a number of small piles
Step2: Run your mower over the lot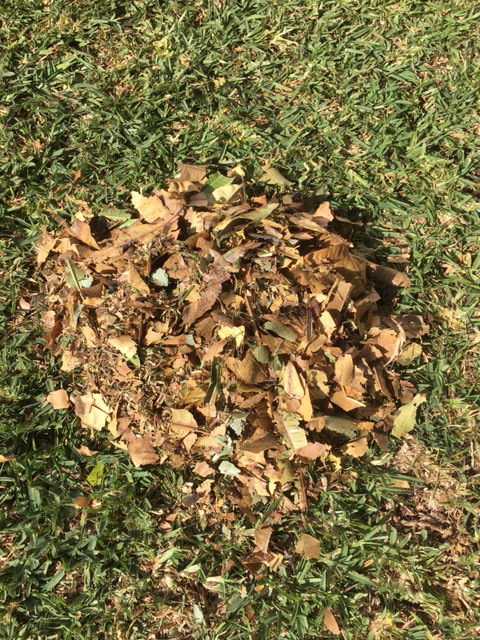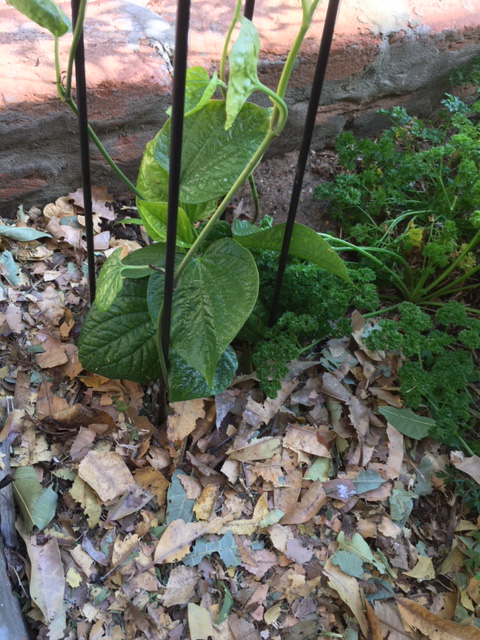 Step 3: Shredded mesh ready to go; then just place around your plants
Until next time,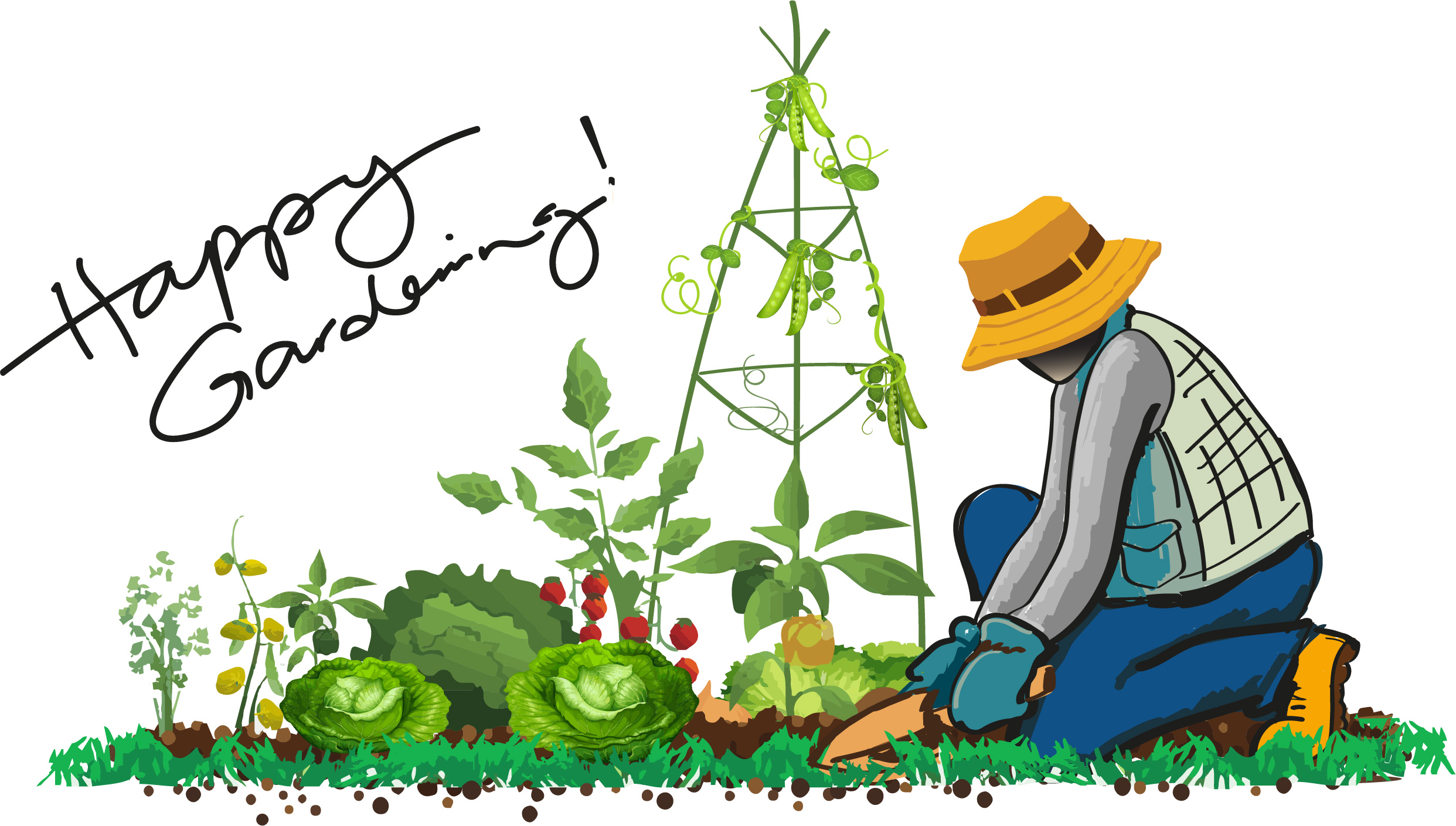 ---
1st March 2019;
Spicing It Up
Making use of a tired old area next to the house
I have this area between my house and my neighbours that is all concrete and very harsh.
It gets the extremes of temperature and can be cold in the winter and very hot in the summer.

So as a project to improve its looks and to get more edible plants in the garden I smashed up some of the concrete and planted mainly some tough semi-tropical plants.
I have tried a mixture of plants that can be used in the kitchen and that also have a range of interesting flowers and leaves: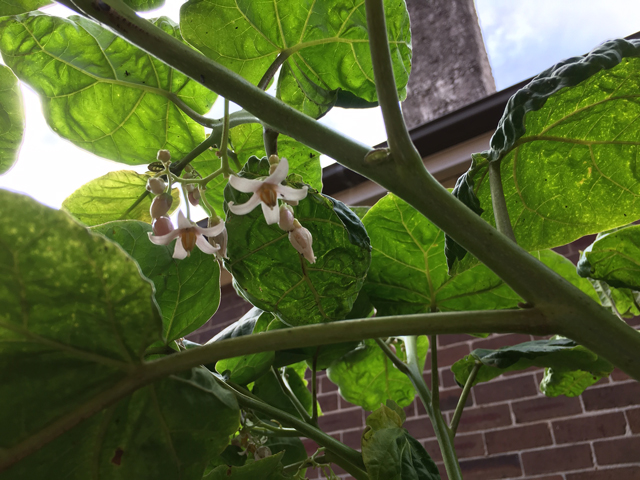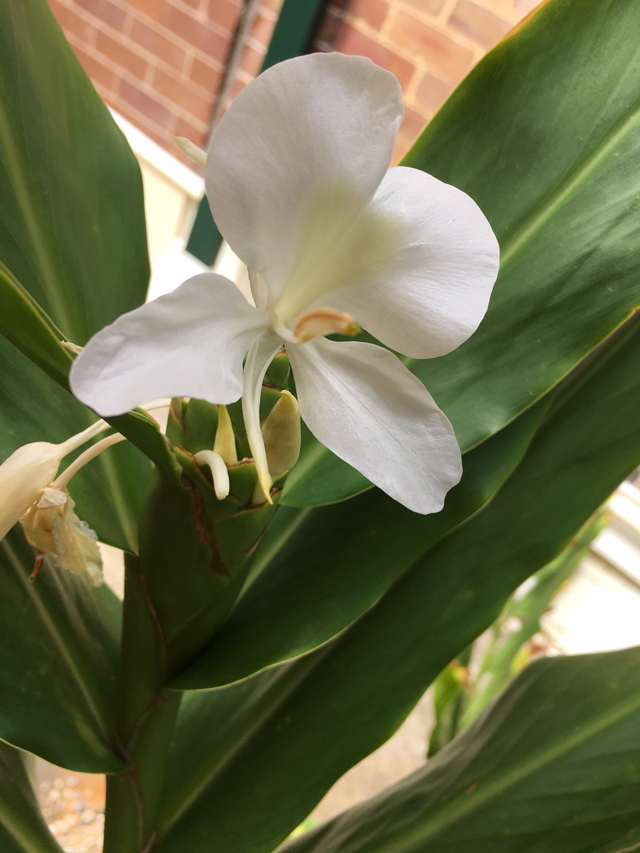 Two tamarillo trees which are also just starting to form fruit.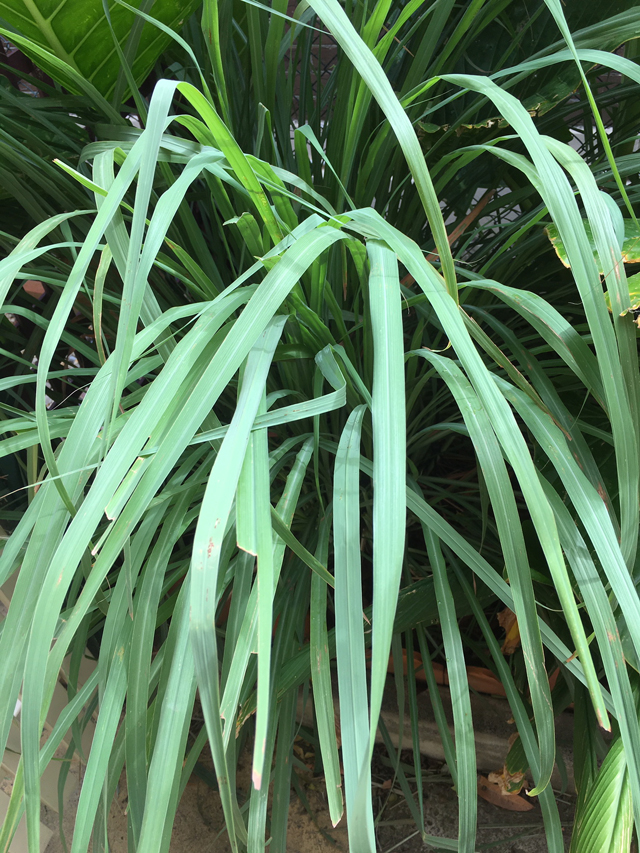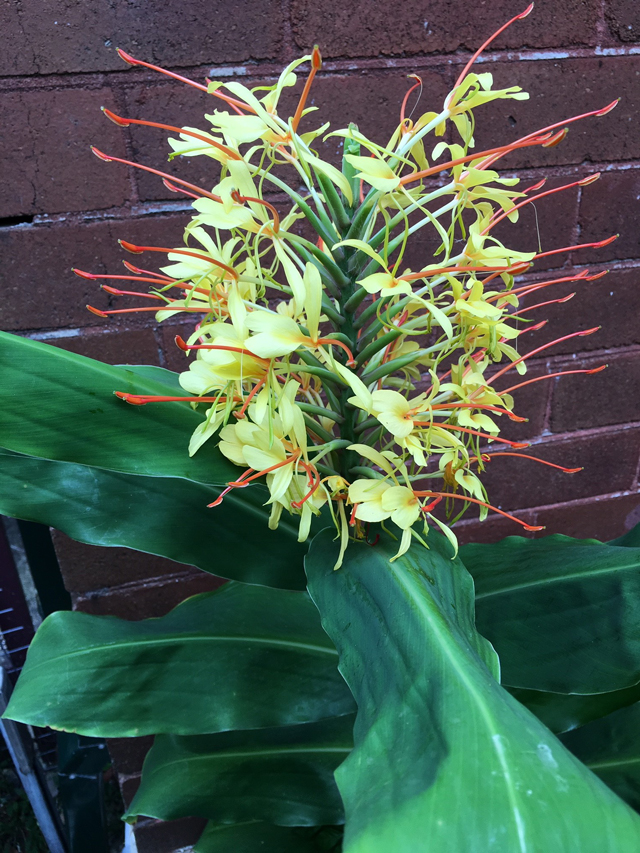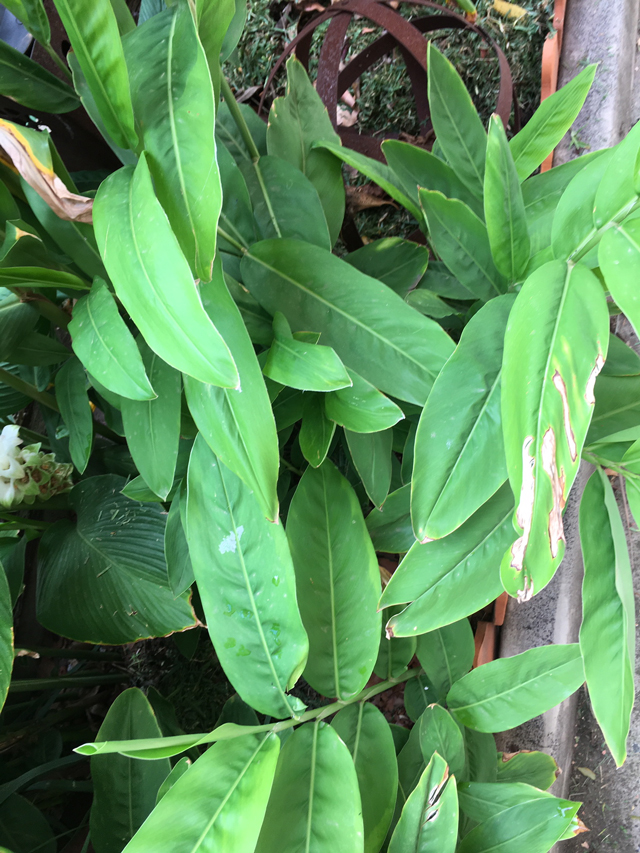 Lemon grass with it's long sharp leaves. Two varieties of ginger - plain and red. Galangal.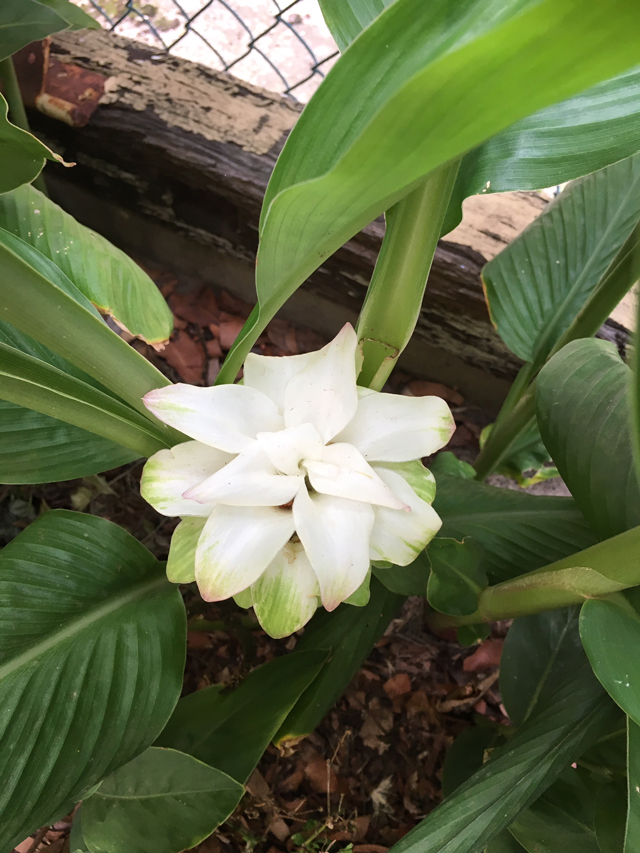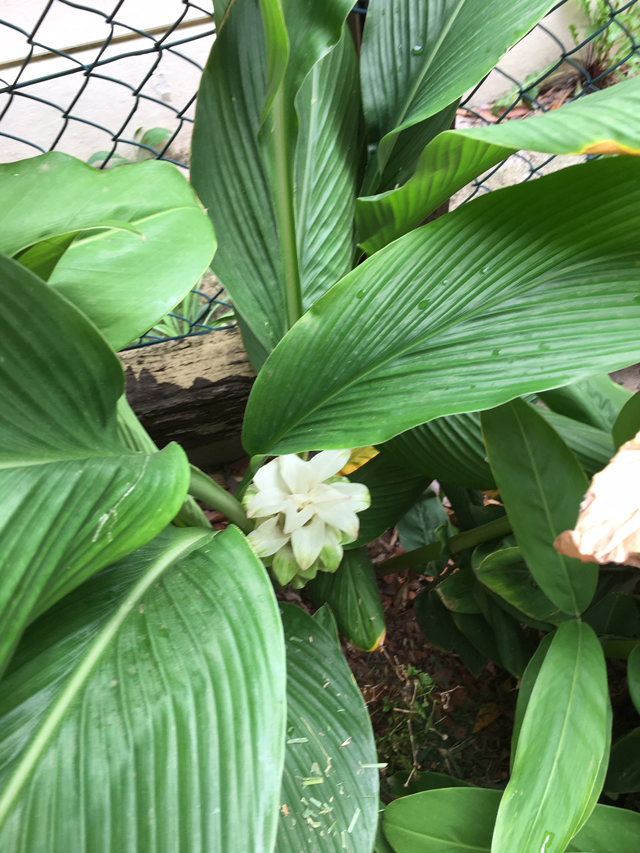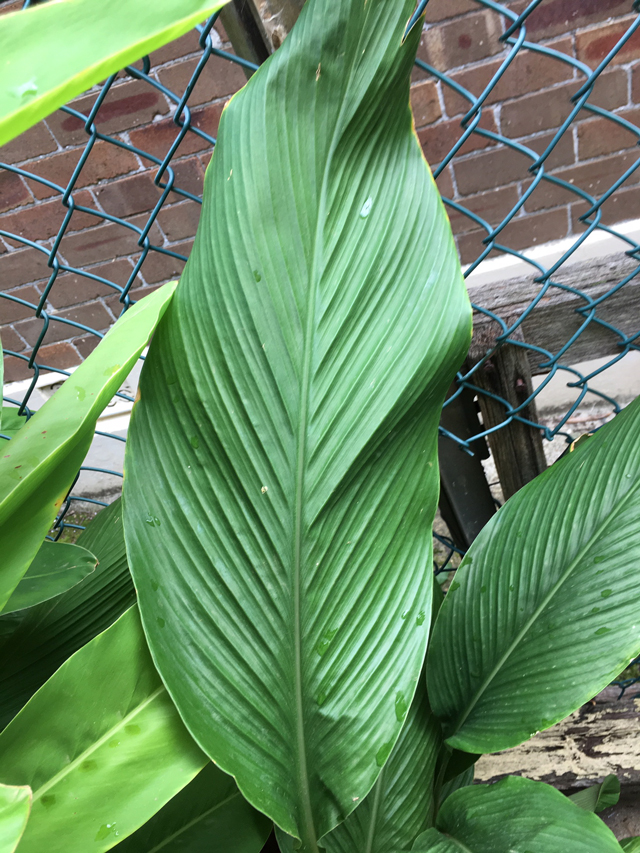 Turmeric with its white flower. Turmeric leaves. Yam with giant ribbed leaves.
These variet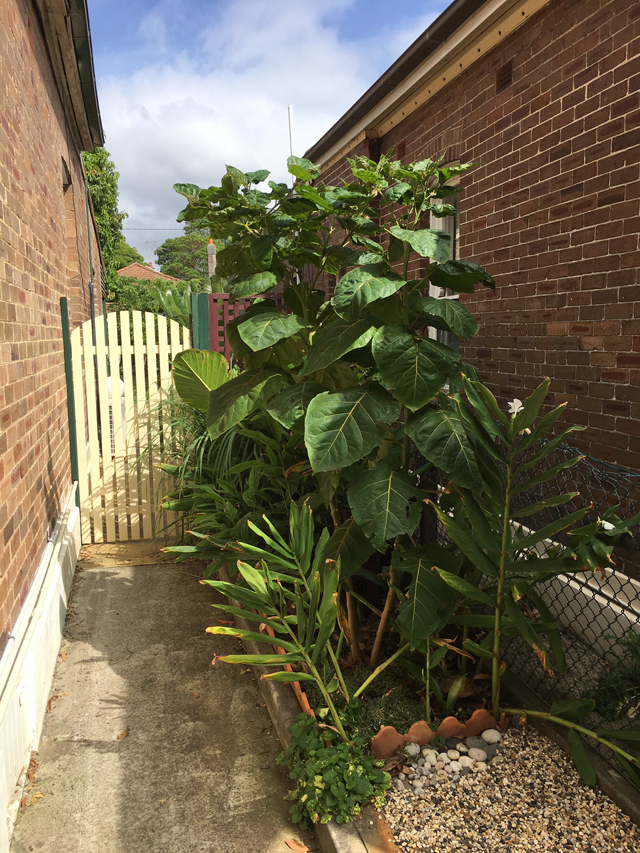 ies are flourishing in the microclimate.
There is not a lot of direct sun but the bricks of the house retain heat and provide warmth.
Until next time,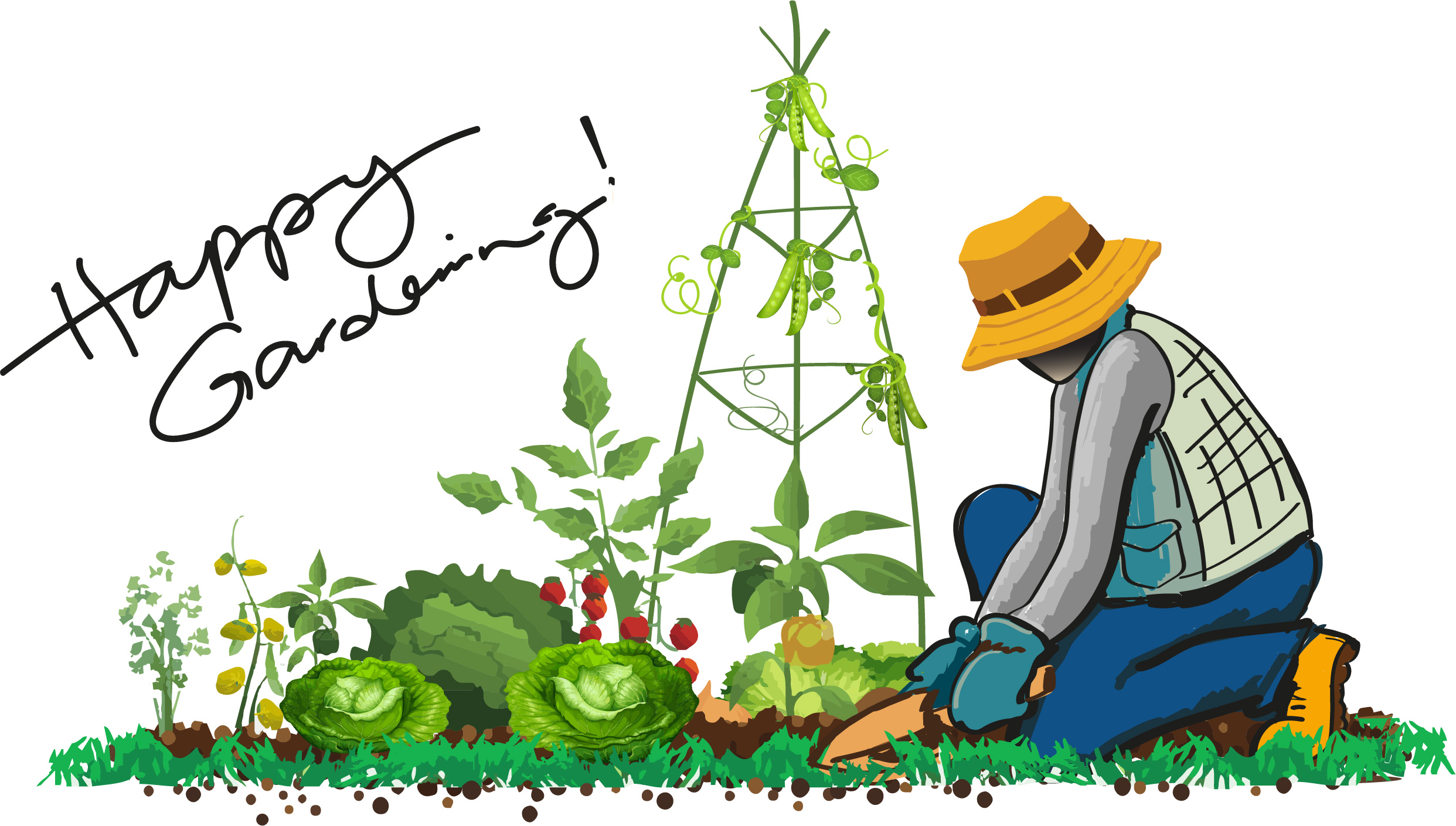 ---
19th November 2018
Encouraging Flowering Cacti
Maximum light, maximum heat
As a desert-dwelling species, cacti will do best in direct sunlight. If you have an indoor variety then place it in your sunroom near a north-facing window. I've placed ours outside, under the verandah and we are loving the brightly coloured flowers!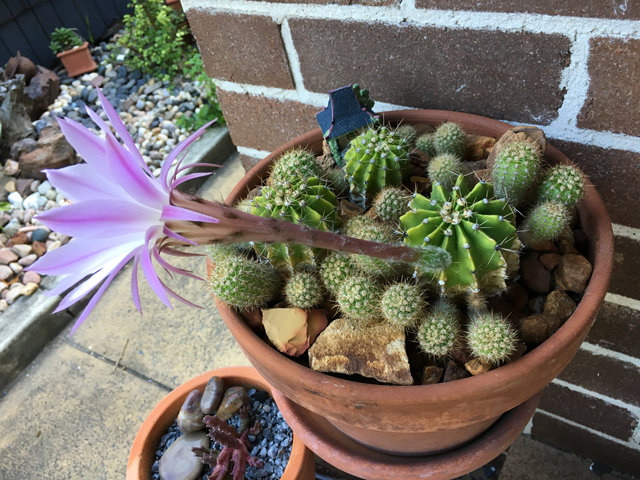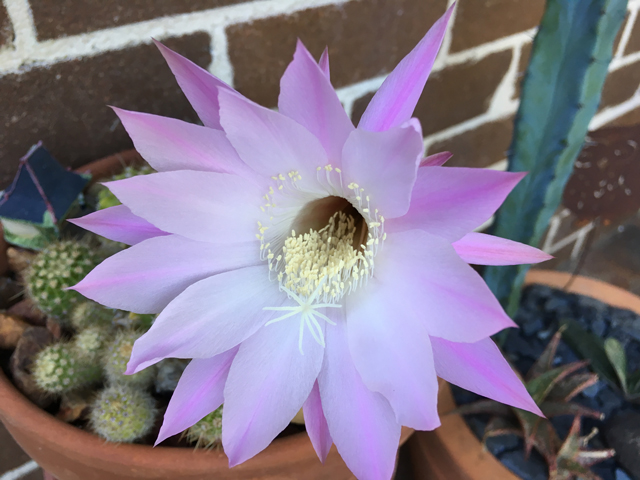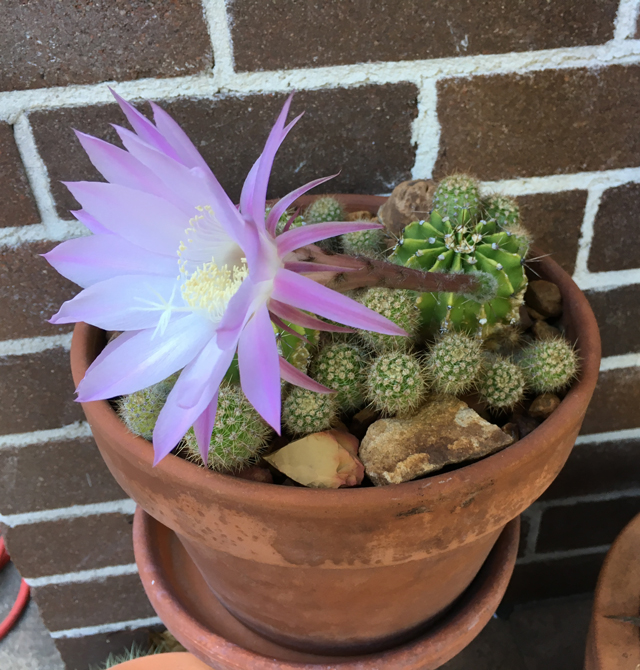 Remember, in Winter, cacti go dormant. I place them in a cool, dry spot ensuring they still get lots of light, and very importantly, stop watering them.
When they wake up again in Spring, I put them back in the sunshine and give them just enough water to keep them going.
I'm pleased with the results so far.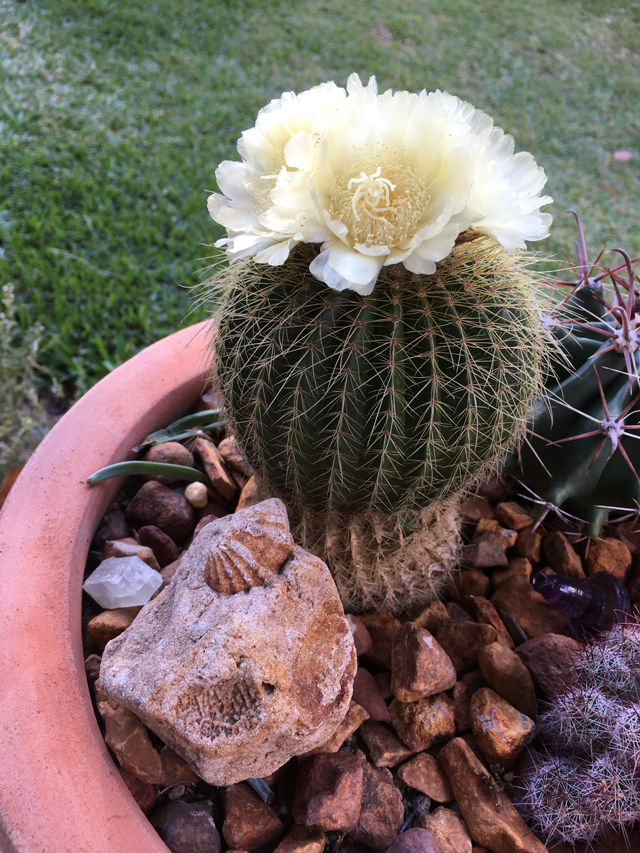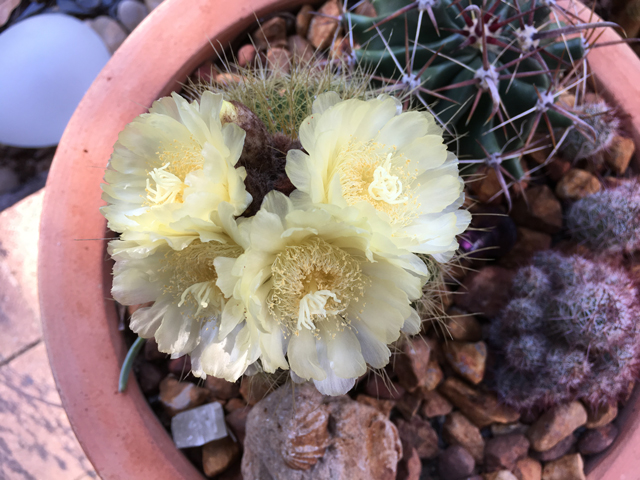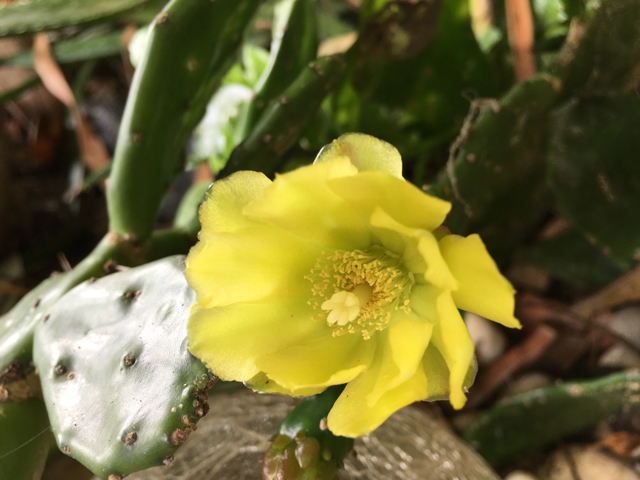 Until next time,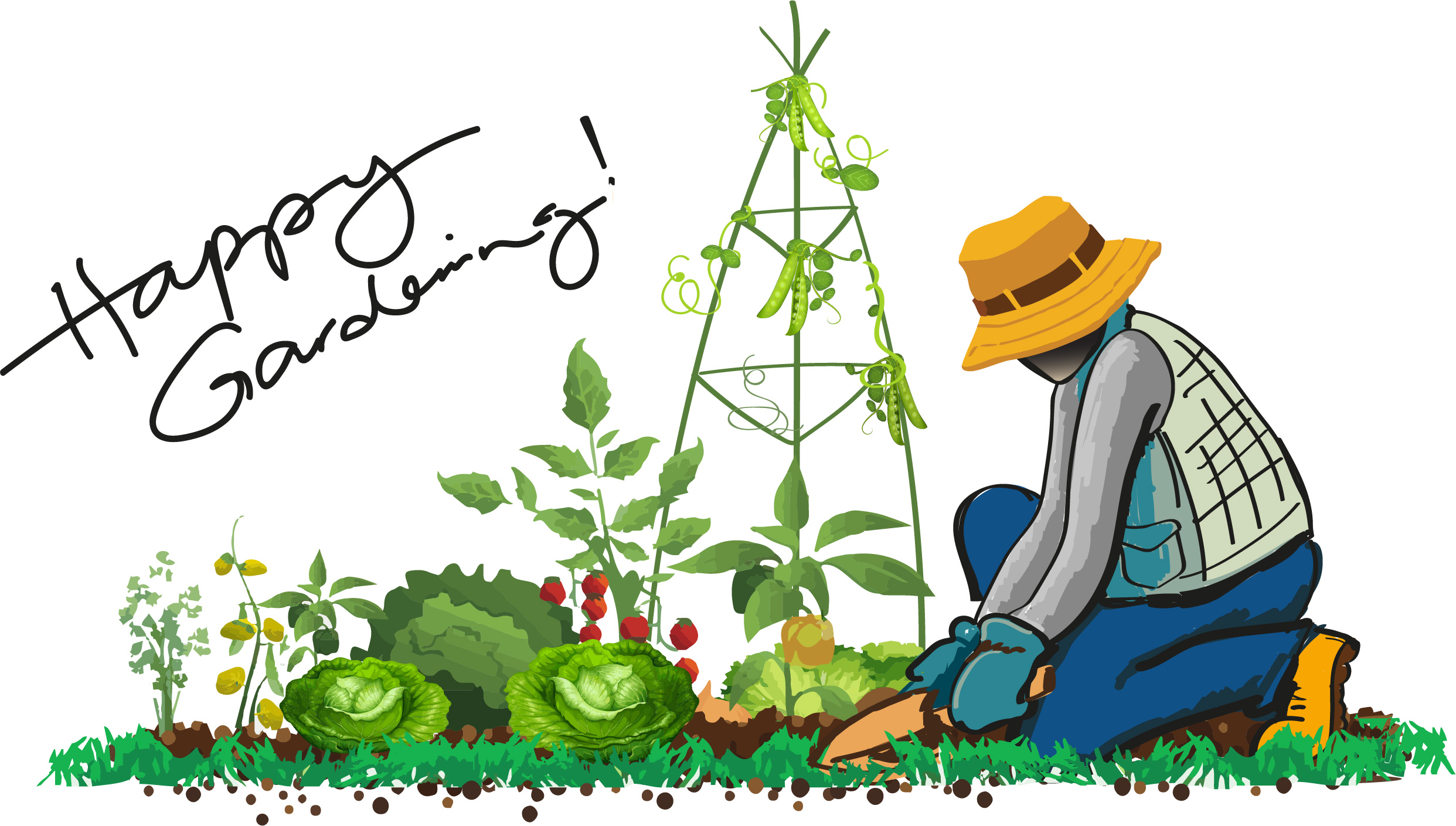 ---
26th October 2018
A Tale of Two Garden Beds
Garden Bed One - Dog Tales
Cleaned up this bed by getting rid of the bolting lettuce and the last of the snap peas.
You can see that the rain wasn't wasted. The wasabi rocket loves the rain and all the flowers are great for attracting bees into the garden!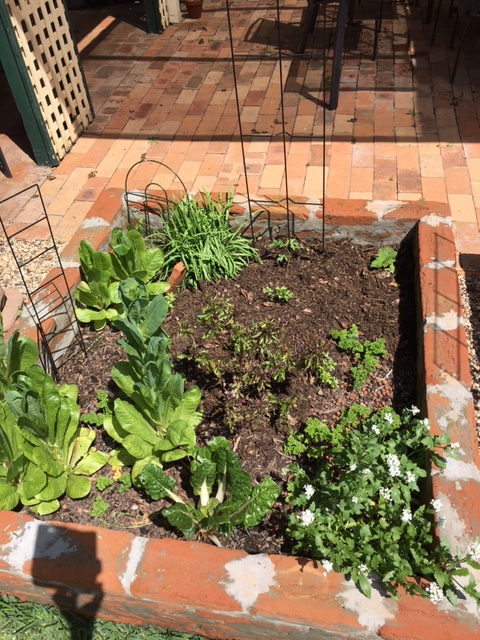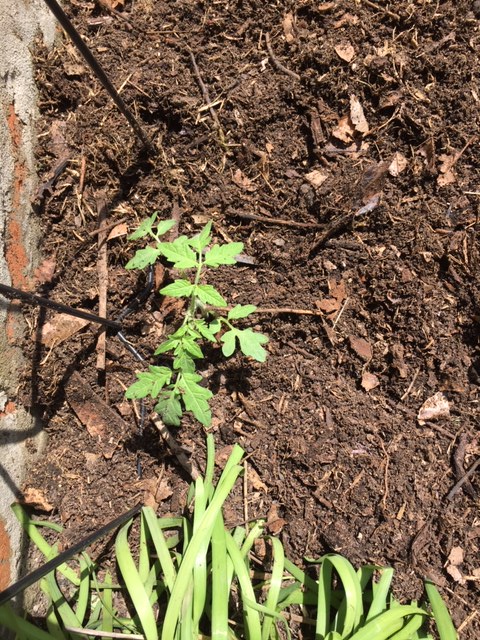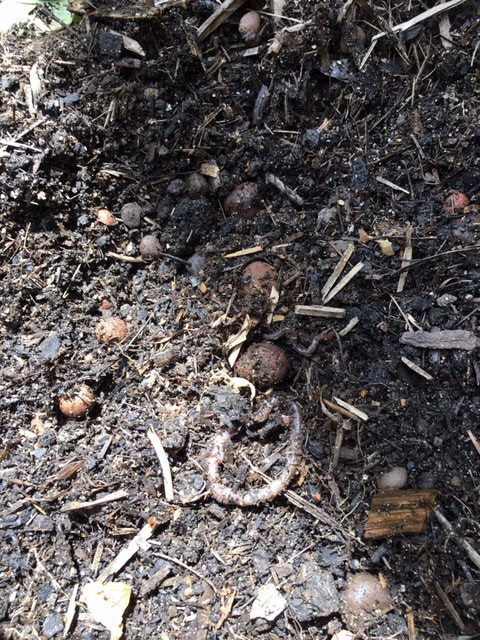 The lettuce and the peas had taken a bit out of the garden so I added blood and bone and a couple of big buckets of compost.
When I mixed it in and there were plenty of worms in the garden, the heavier original soil is now a lot lighter and friable.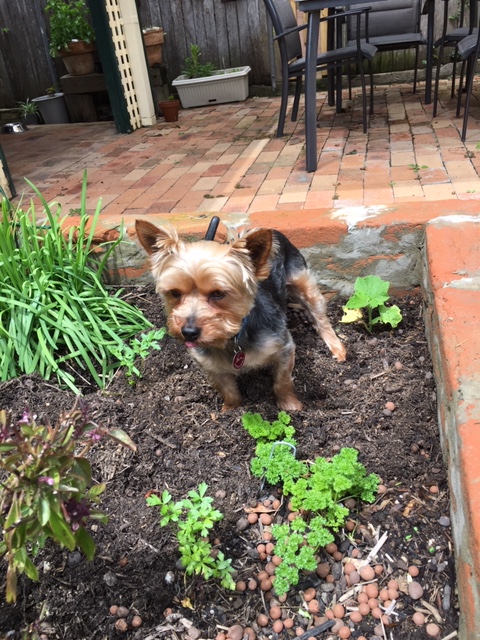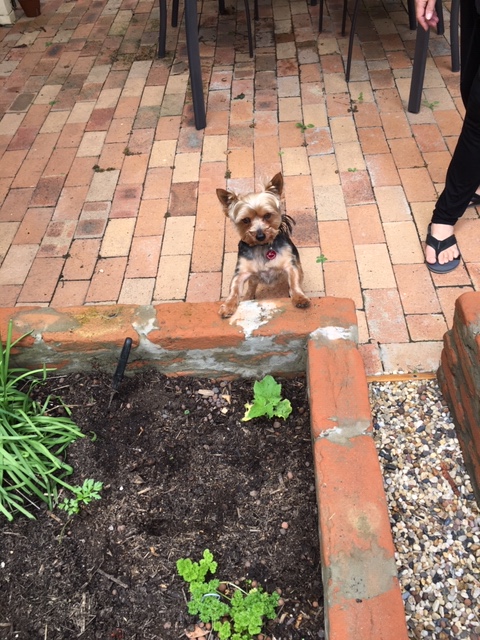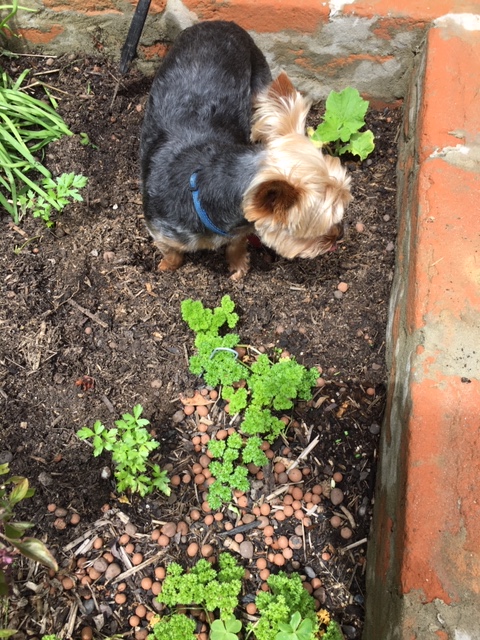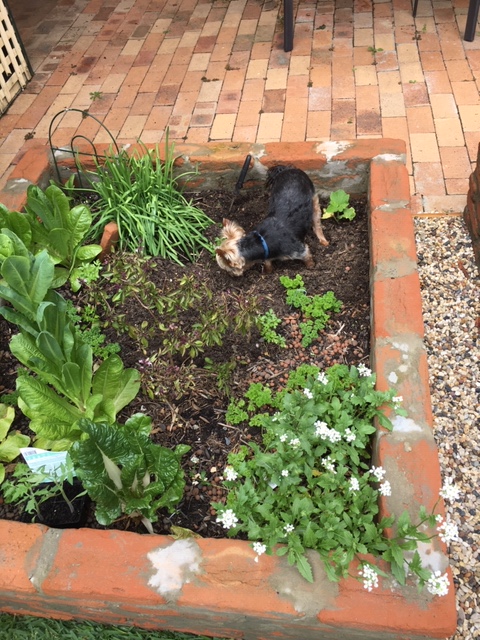 The dog could smell the blood and bone and jumped in to investigate.
I have plenty of the last of the heirloom tomato varieties in this bed and will see what room I have in a week or so for the next planting.
Garden Bed Two - Tomato Tales
Cleaned up the bolting lettuce and decided to add a tomato kit frame rather than the small stakes I started with.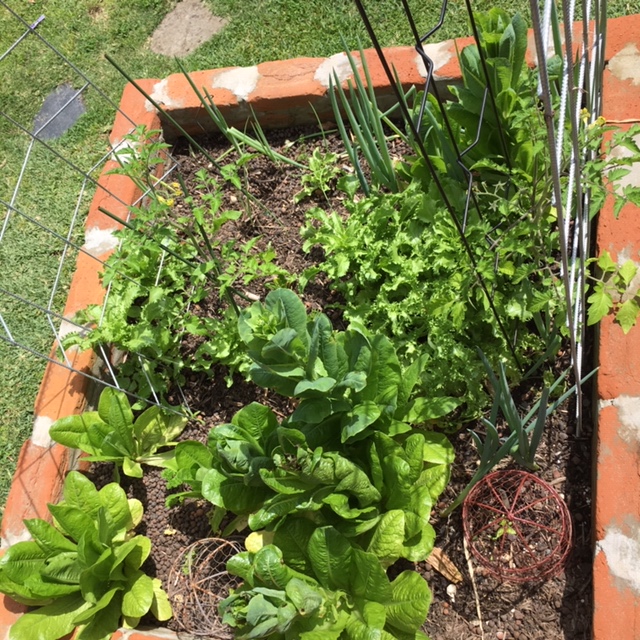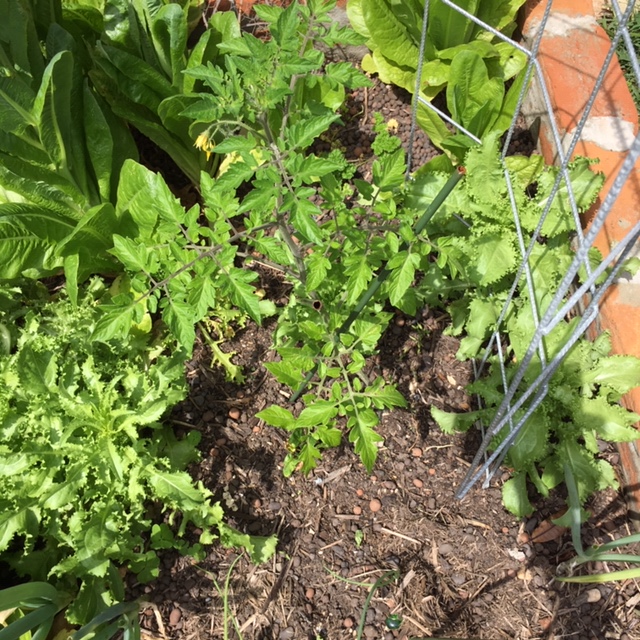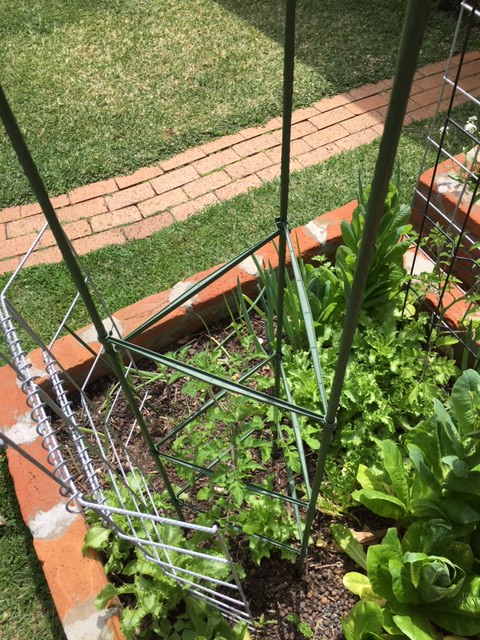 These tomatoes - cherry bombs - have been growing well so they need extra support so I used a simple tomato kit.
The kits are cheap, take only a minute or so to build them and I re-use them from year to year.
I prefer to keep the cross connectors low to start with for extra support then raise them as the plant gets bigger.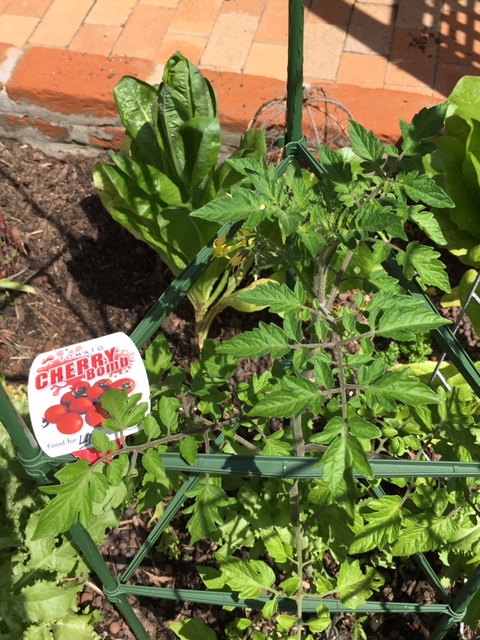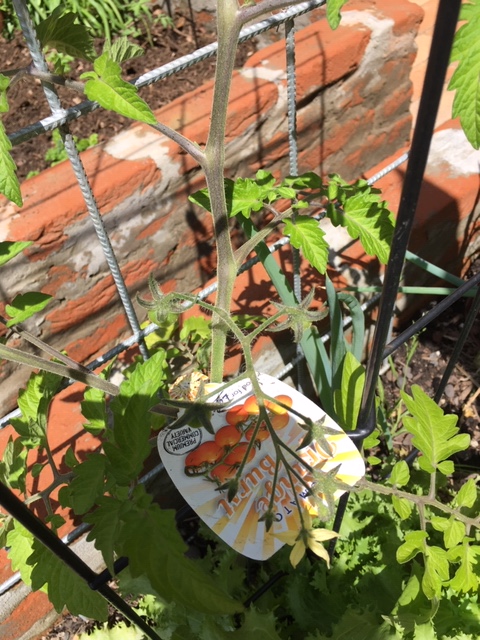 Until next time,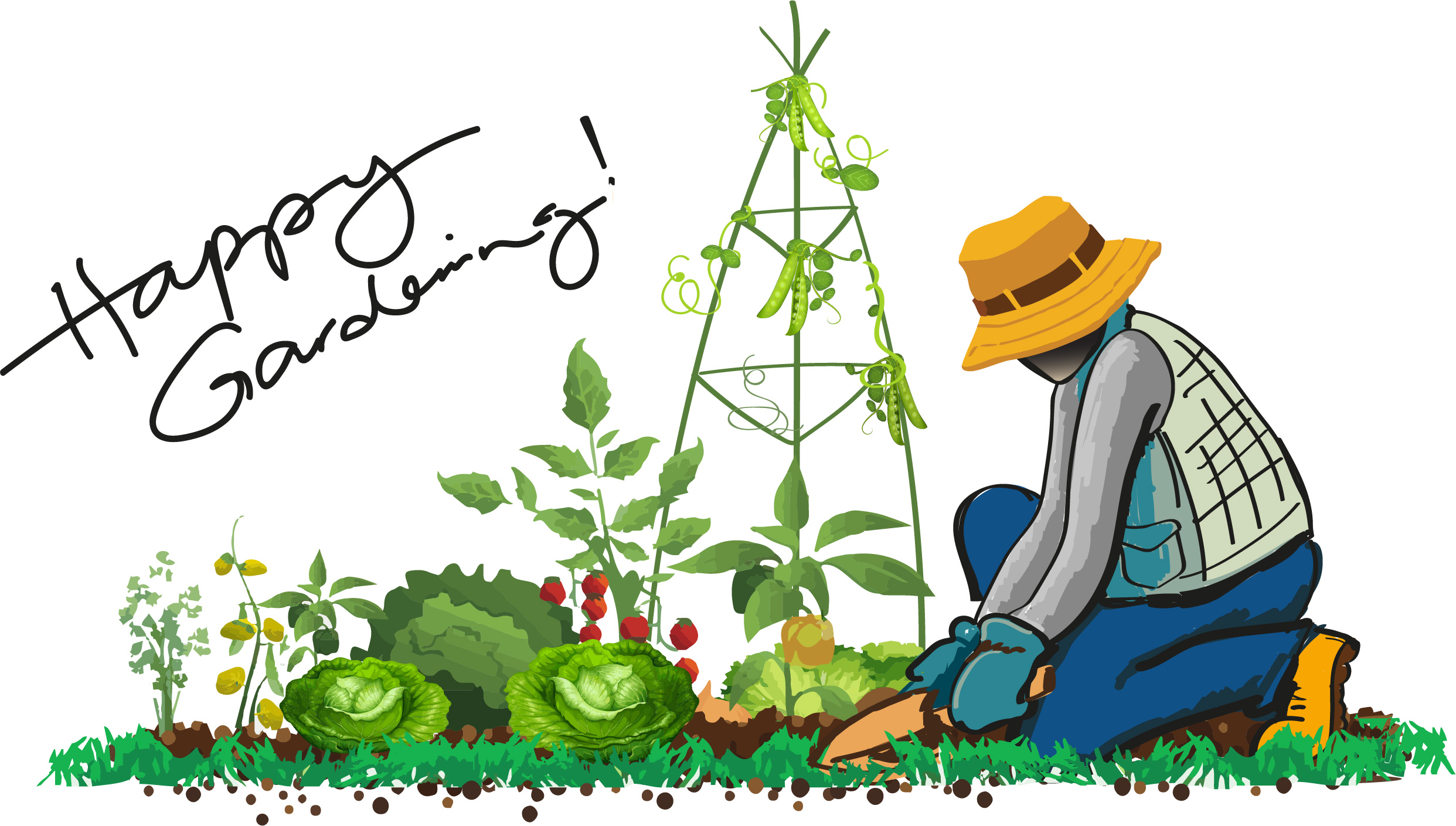 ---
>
21st October 2018
Rain Havoc
The rain has played havoc with the garden!
The lettuce has either bolted and almost seeded or rotted at the top.
So it's time to harvest what I can and feed the rest to the neighbours chooks… they were very happy to get some greens.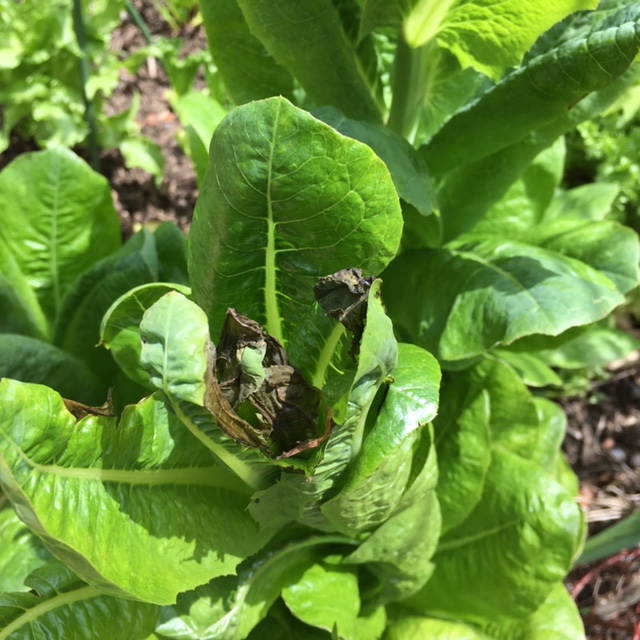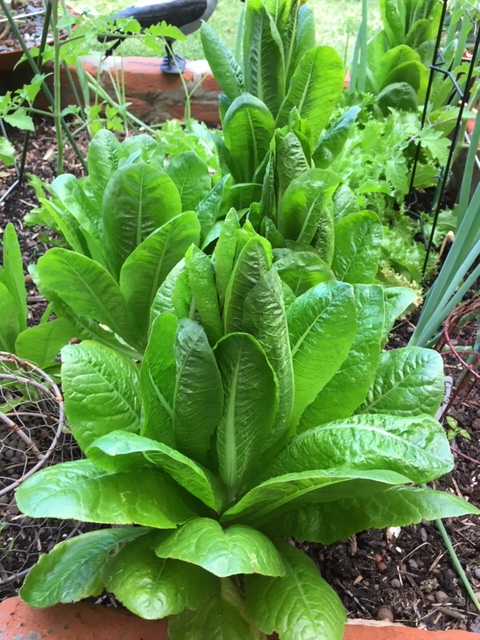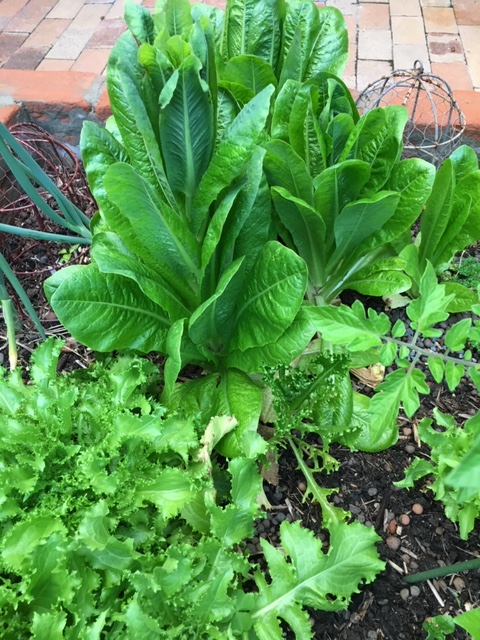 Until next time,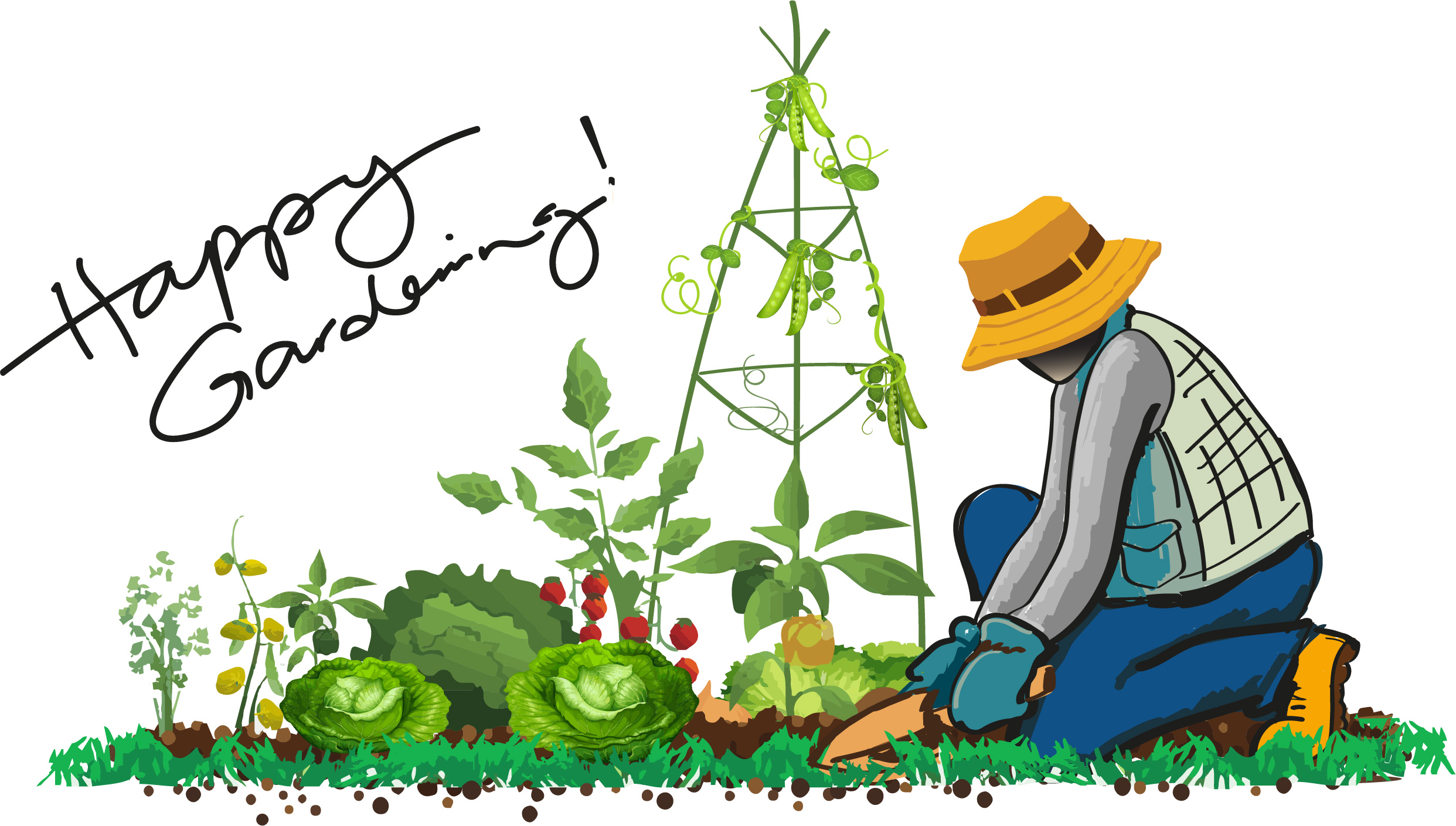 ---
18th October 2018
Time Out For Cacti
It has been raining so hard I had to take a break from the garden and do some minor maintenance on my cacti. I have had these for a long time and they sit on the back veranda under a roof.
This is important as cacti don't like a lot of water. The roof stops downpours like last week; it allows me to control the amount of water - about once a week in summer.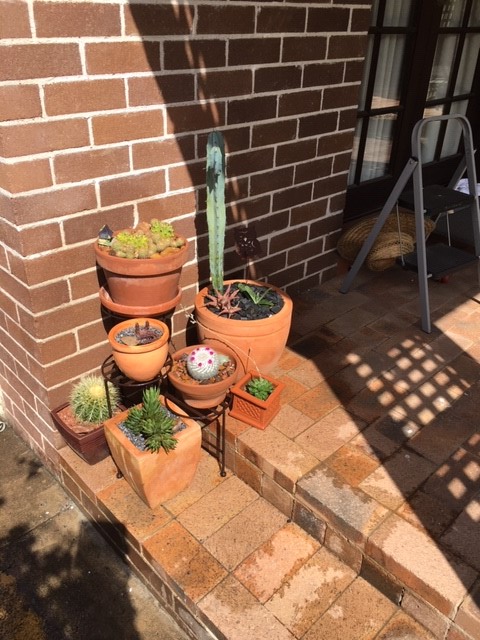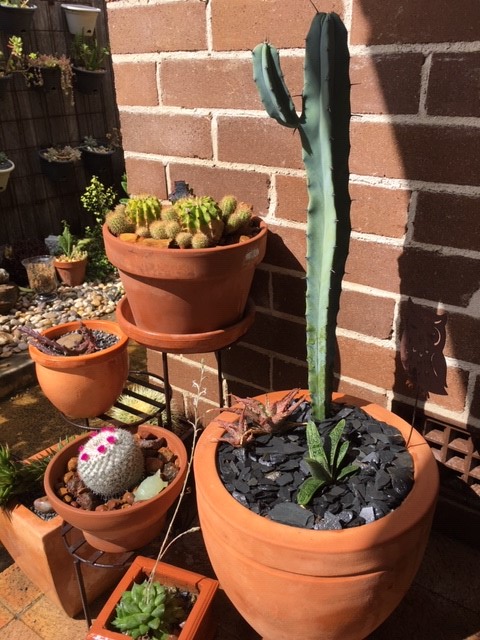 This part of the veranda is also the hottest and the brick wall behind the pots provides heat over the winter as the sun is at a lower angle and heats the bricks. In summer, the sun is higher so there is minimal direct sun just heat.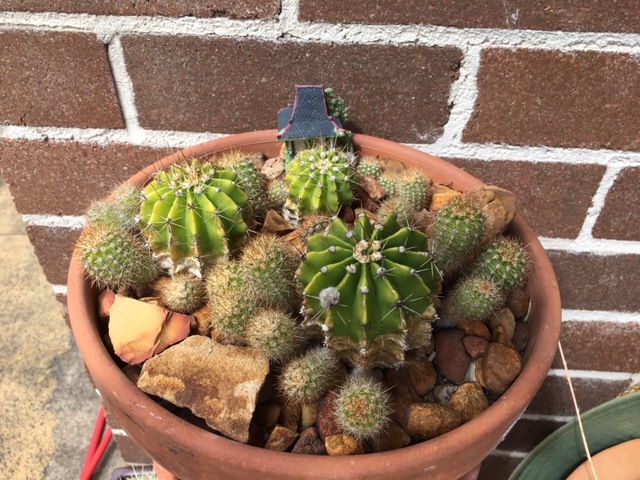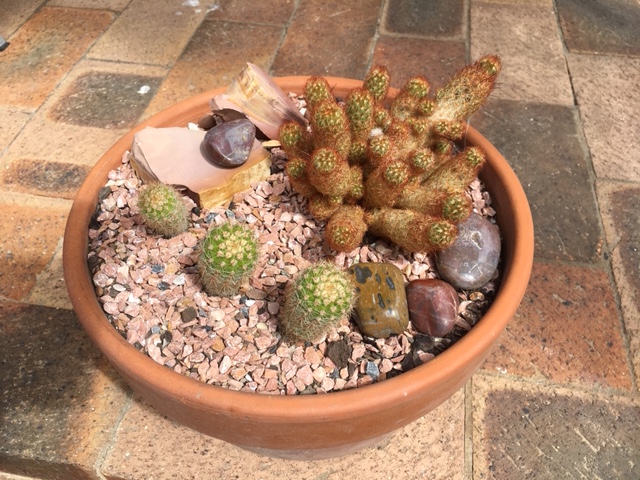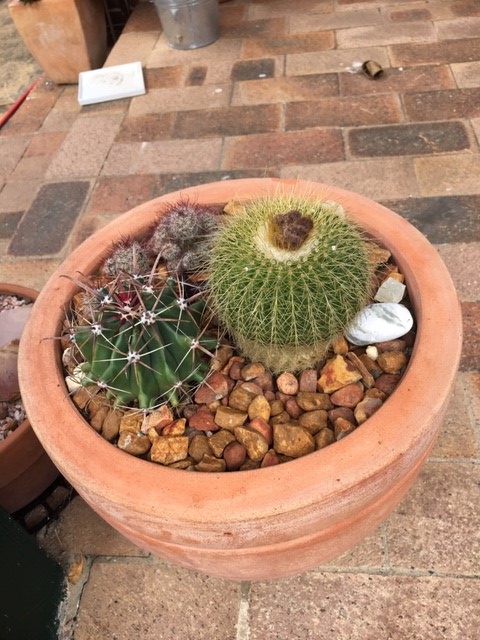 I have potted these in my own mix of fine gravel, coarse river sand, charcoal and a very small amount of potting mix.
Each pot is topped with either small rocks and chips that act as a mulch and hopefully make the pots a little more interesting as well highlighting the plant.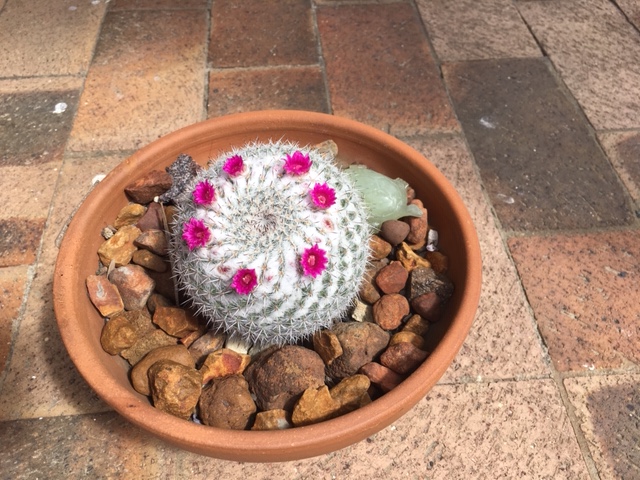 The cactus with the magenta flower ring has loved this spot. It blooms about every 6-7 months.
Until next time,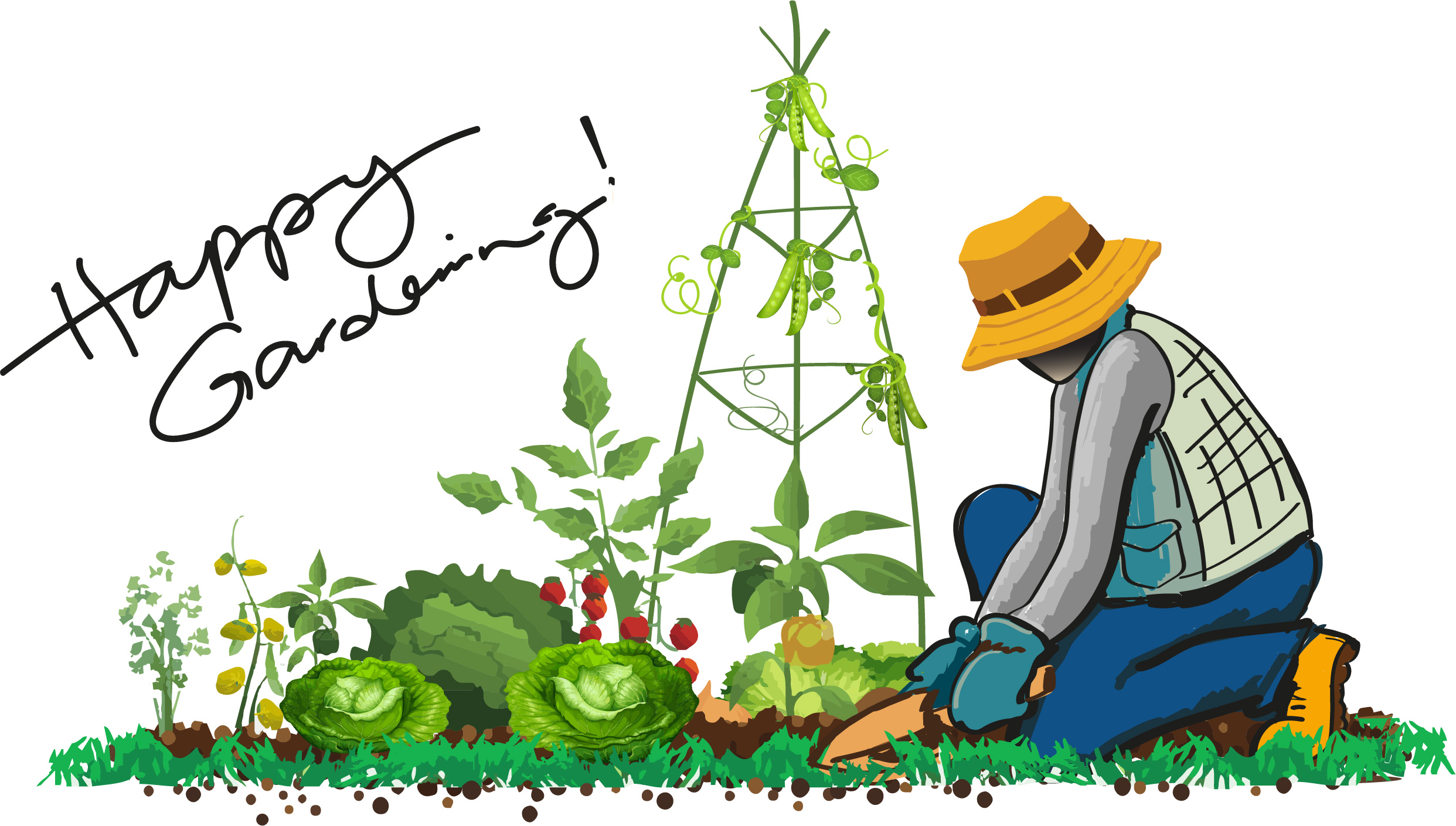 ---
15th October 2018
A New Garden Bed
Woke up this morning and decided to build a new garden bed.
Now the rain has finished, hopefully the growing season will really start so I decided to build a new garden bed with some leftover bricks that were getting in the way.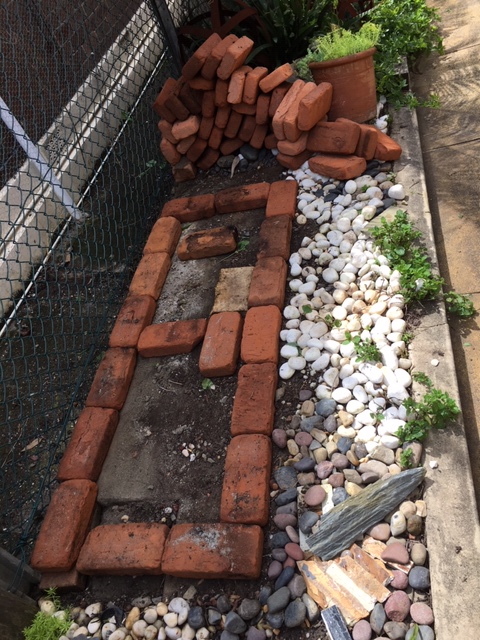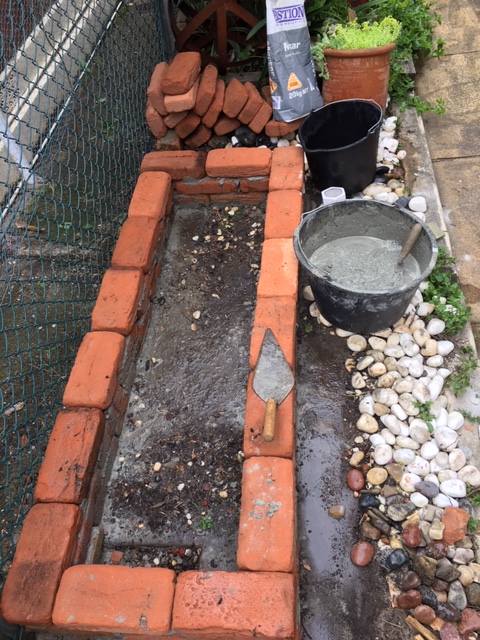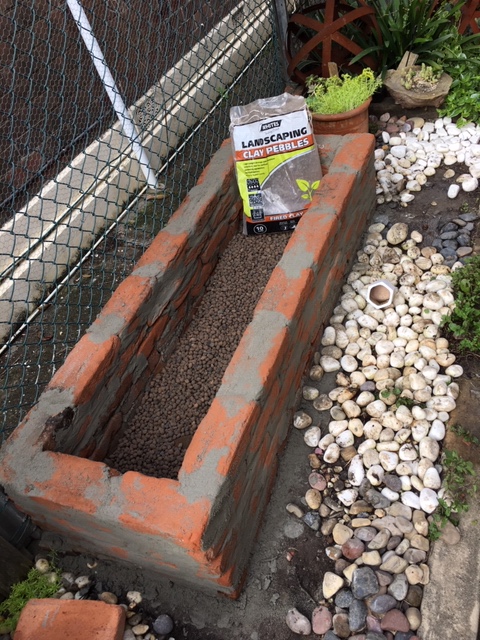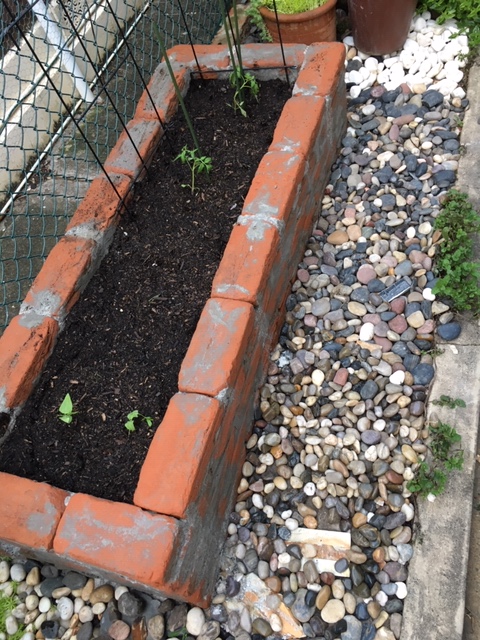 The bed is not in the best position as it is down the side of the house and is either too hot or too cold. It's all concrete, however, I decided to give it a go and will be careful on my plant choices.
The size of the bed was decided by the number of bricks I had: 16 bricks per layer and 5 layers with one brick left over… perfect!
I used the actual bricks to set it all out and mixed up some pre-mix mortar. I reckon it's a lot easier to use than sand and cement and then built the lot fairly quickly to try and beat the rain.
I left some gaps at the bottom for drainage and once it was done I filled the bottom with lightweight clay pebbles (Whites, of course) for drainage, together with clippings and cuttings I had pulled out of the vegie garden the day before.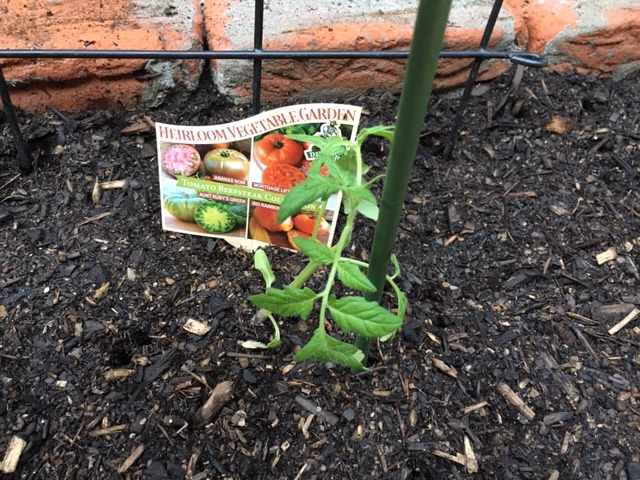 I topped it up with a mix of chicken manure, potting mix and mushroom compost (5-6 bags in total) and it was ready to plant out within the day.
Made sure the chicken manure is mixed in well so it doesn't burn tender seedlings. I tend to save a bag of potting mix to put over the top of the mix to reduce the smell and discourage the dog.
I am trying some more tomatoes in this bed as I saw these heirloom varieties and was excited to give them a try. At the other end are a couple of snake bean plants which have always done well in the area.
Until next time,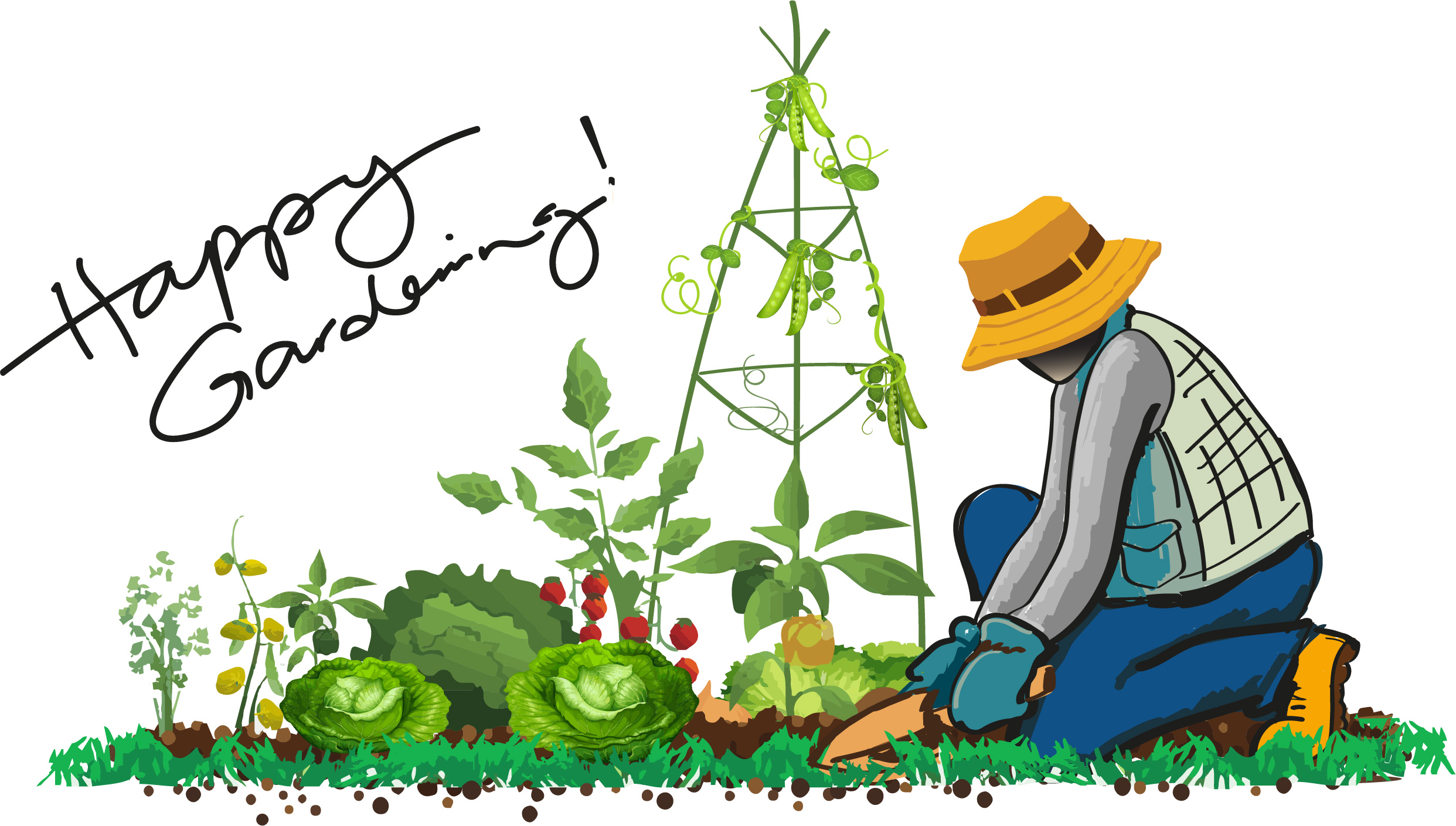 ---
6th October 2018
Rain & Snails
The good news is the rain has come, which the garden really likes.
And the beans have started to sprout! (pic left)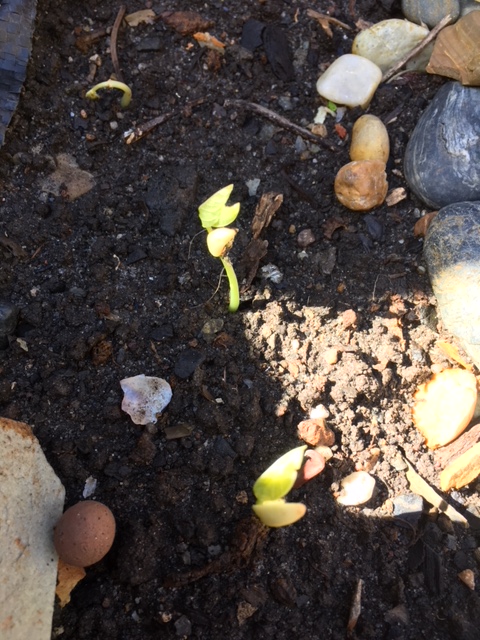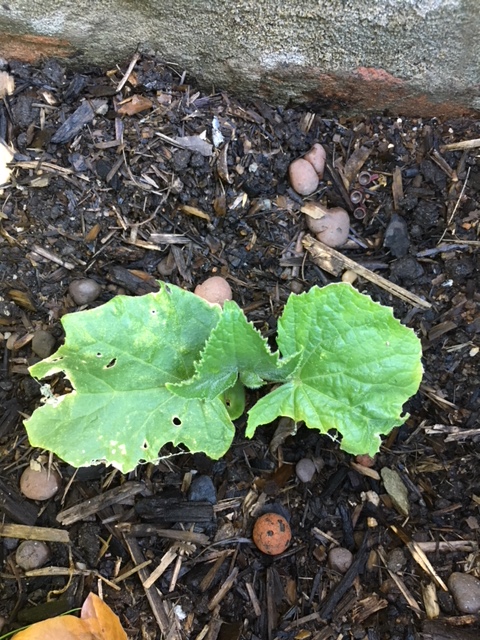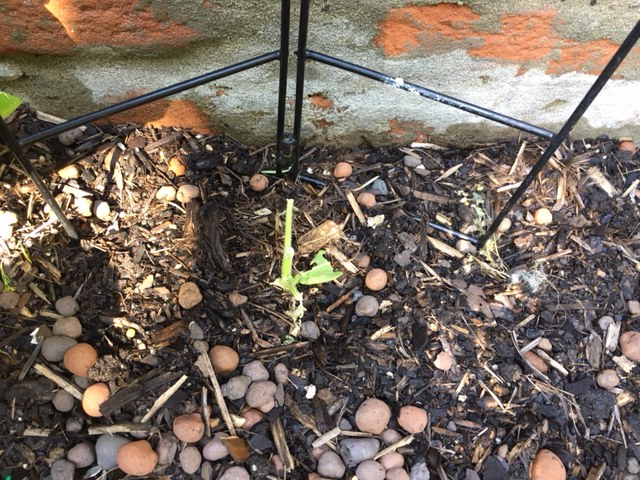 The not-so-good news is that the snails have come out. See before (middle) and after (right) pics above!
Tomato Maintenance
Pinching off tomato shoots (bottom right) helps to get the bush grow taller.
This means you are removing the main stem, forcing the plant to grow two new stems from the leaf nodes below the pinch or cut.
As seedlings, when they are 100-150mm tall, pinch them back to force new growth. This doesn't affect fruiting because the plant is young and hasn't bloomed.
Tomato plants can be pinched again as soon as new growth grows 50-75mm, if necessary.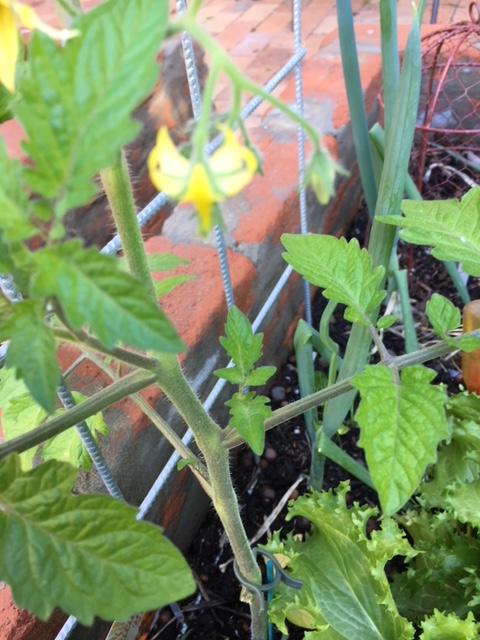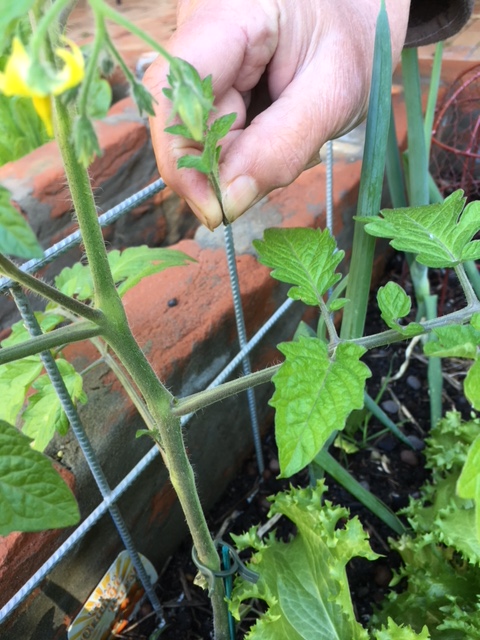 Until next time,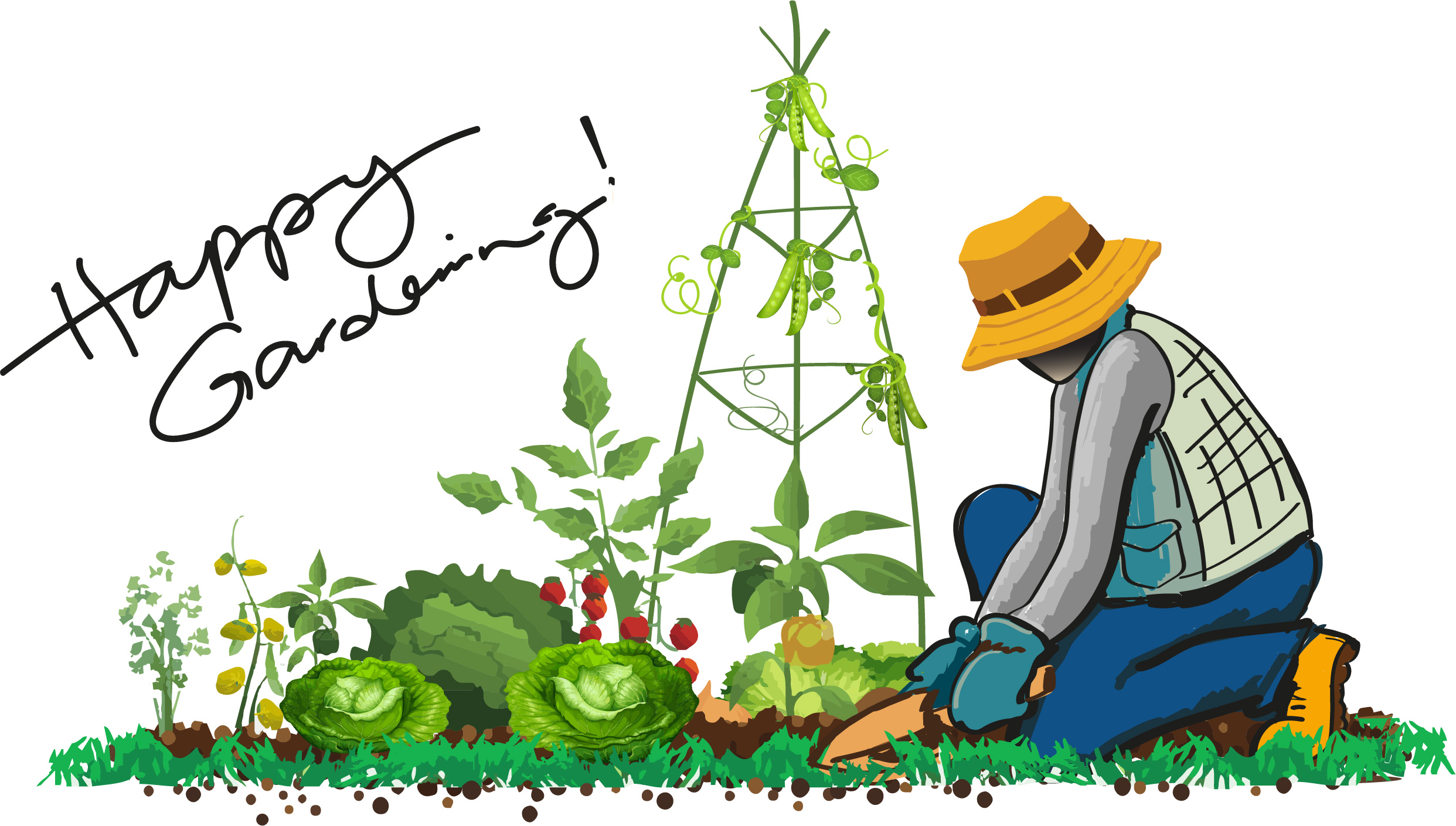 ---
1st October 2018
Mini Market Garden
It's starting to warm up and the gardening is getting serious in my mini market garden.
For me it's all about getting more out of a small garden, picking fresh veggies and just enjoying your garden without it becoming a chore!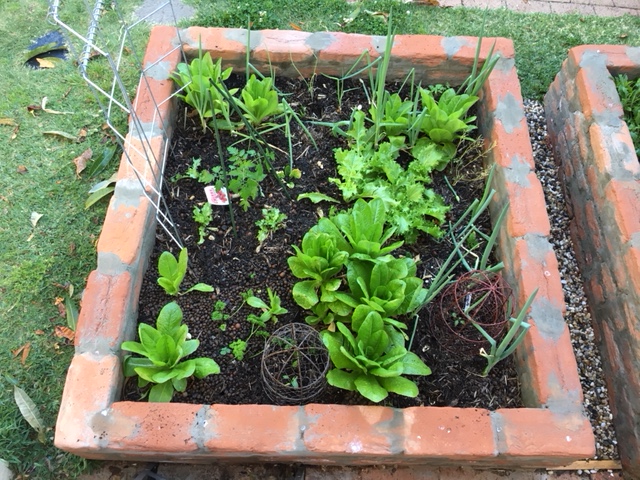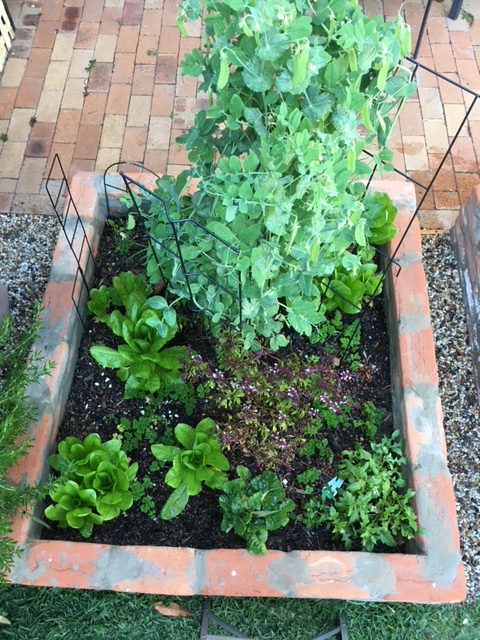 These 2 small gardens have been producing salad for more than month. To give you an idea this is what is in the beds:
Silver beet, Italian lettuce, Parsley - curly and continental

Wasabi rocket, Garlic, Chives, Thai basil, Spring onions, Curly endive

Snap peas - the yield had been incredible this year with the warmer winter, and we have had fresh peas all winter and the latest planting is just as good.
This will be the last over summer as it will be too hot , that's when the beans will take over.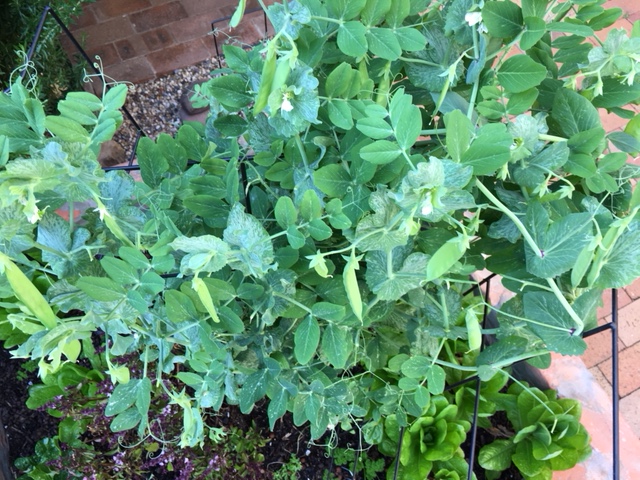 Just planted:
Cherry bomb tomato - I prefer the small varieties and they are better against pests in my area
Snake beans - should be ready to sprout as the soil gets warmer and I want them to get a head start before the tomatoes get going
And an experiment - 2 fearsome chillis - tabasco and guajillo!!!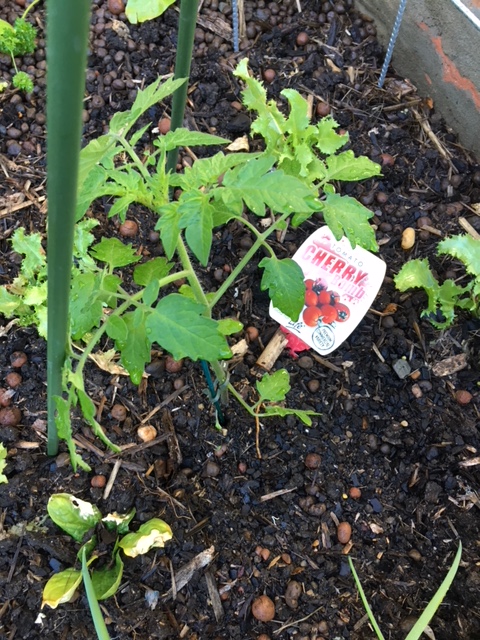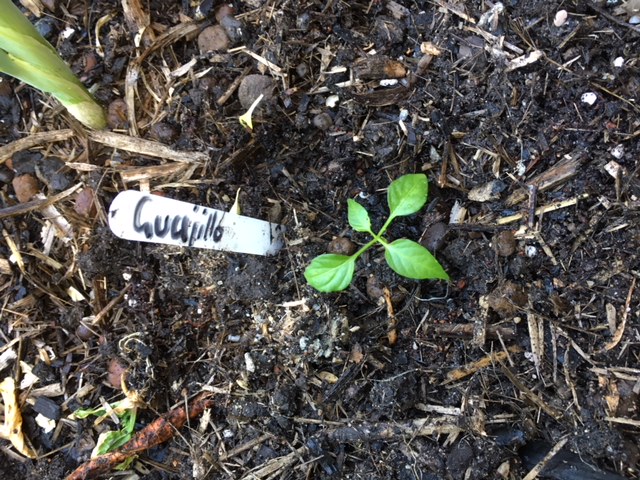 Until next time,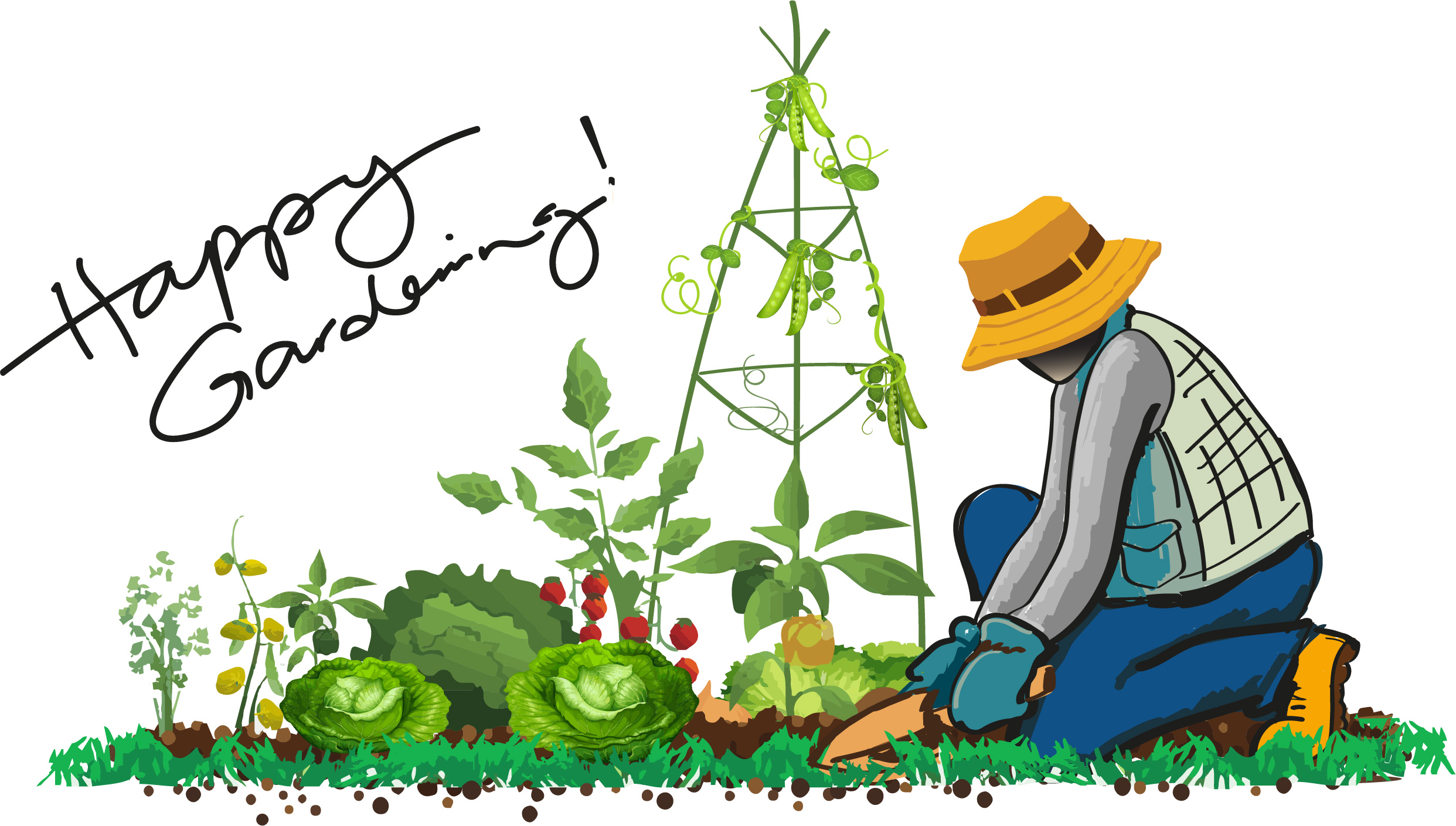 ---
25th September 2018
Planning Ahead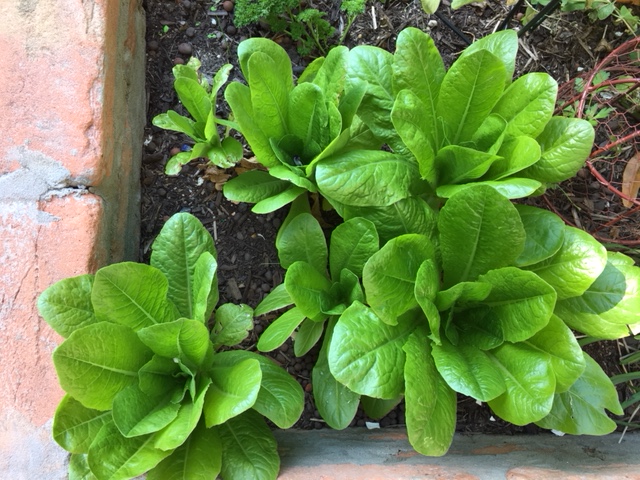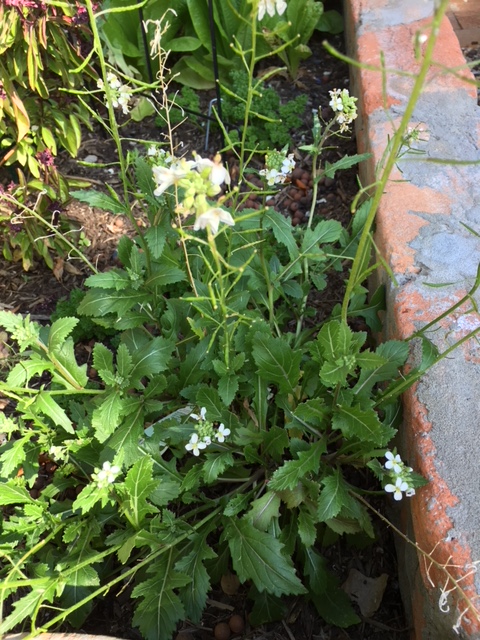 About a month later we're into spring and our early planting is really paying off.
Already harvesting lettuce, endive and wasabi rocket!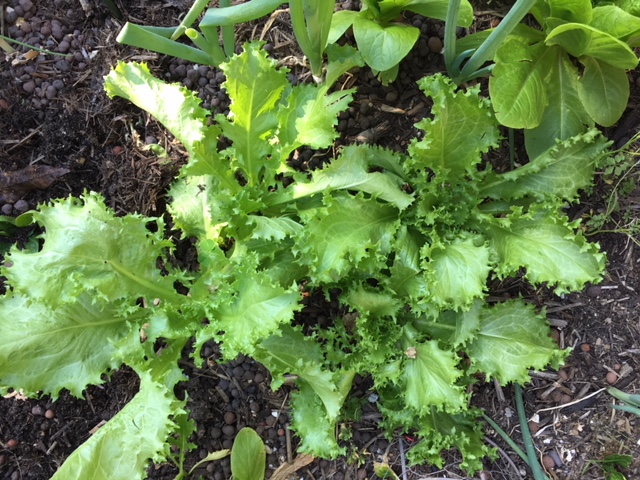 The new lot of snap peas are full of growth and just producing fresh young sugar peas (pulled the previous crop of peas out this week end and replacing them with tougher summer crop of beans).
Will use climbing beans and snake beans to make maximum use of the space. The snake beans can go crazy so plan your trellis system out.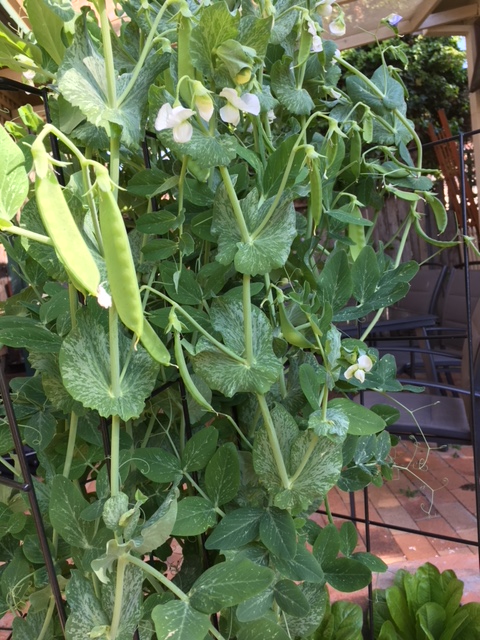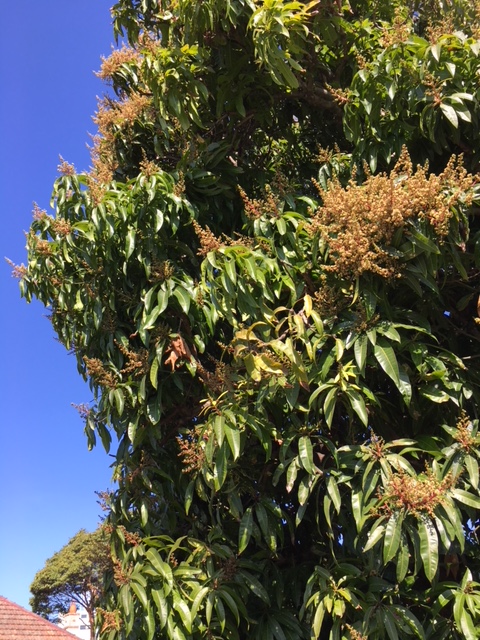 The mango tree loves the dry spring of Sydney at the moment and is full of flowers and hopefully mangoes very soon.
Until next time,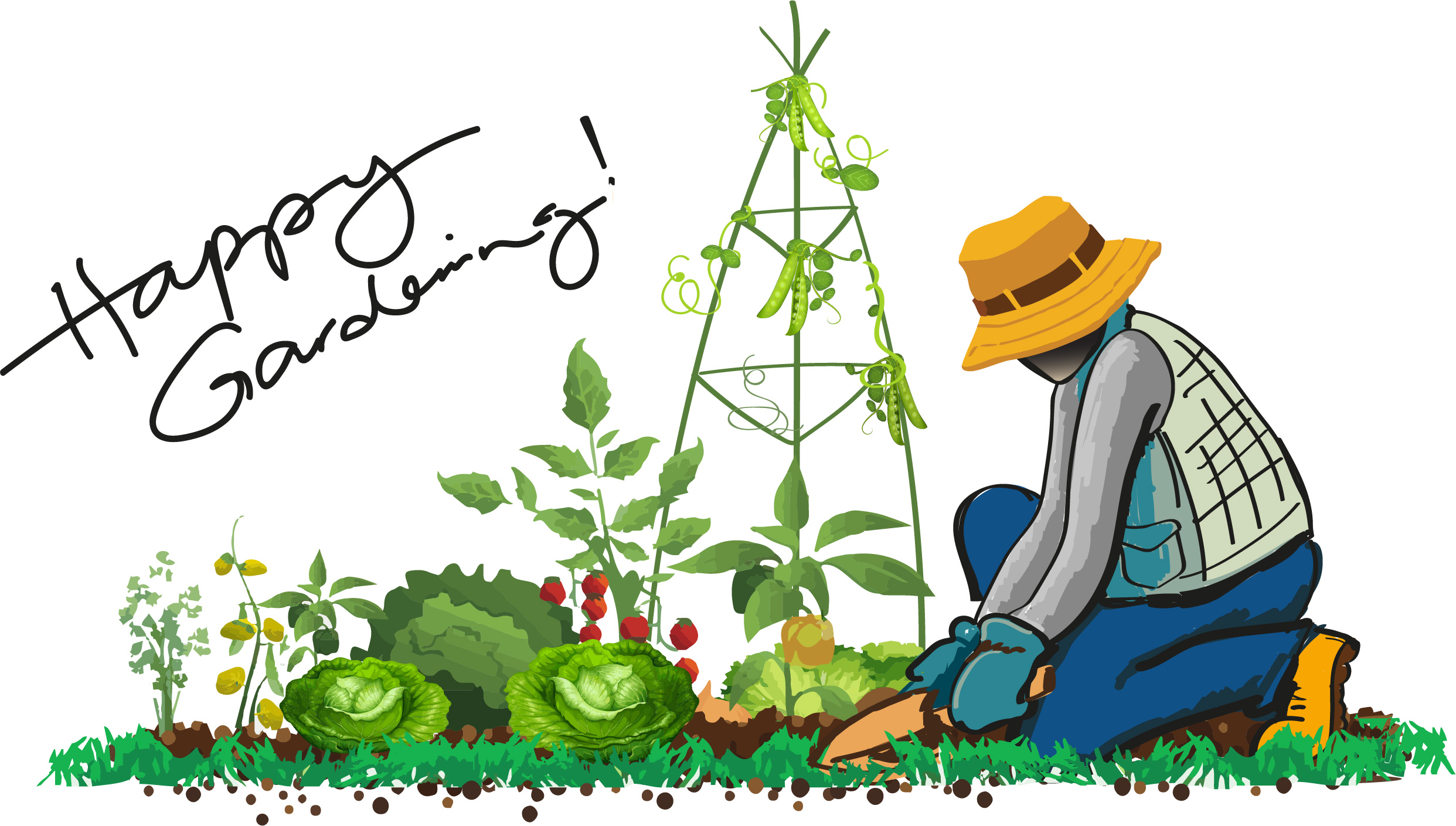 ---
12th September 2018
Let Nature Do The Work For You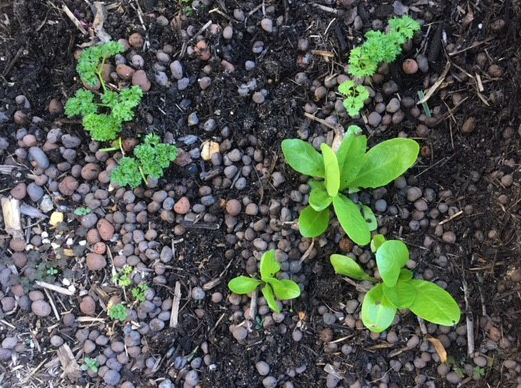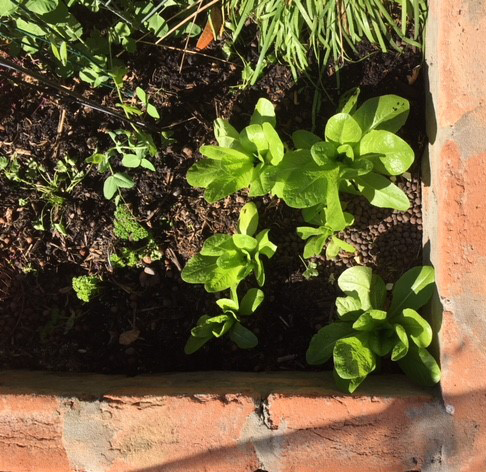 Not all areas in the garden are the same.
To get the best out of your garden it's important to understand the different parts of your garden and plant varieties that are best suited to each area.
This is especially true if you want to extend your gardening season.
There will be areas that are naturally more protected and warmer so select varieties that are suited to these spots.
These lettuce (above) were planted at the same time however the ones pictured right get more direct sun, are more sheltered and the bricks behind the plants absorb the sun's heat and keep the air around the plants warmer.
It's all about light and shade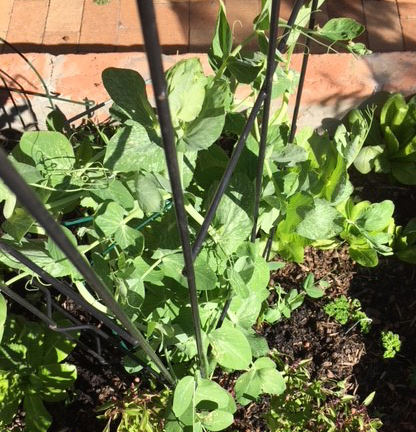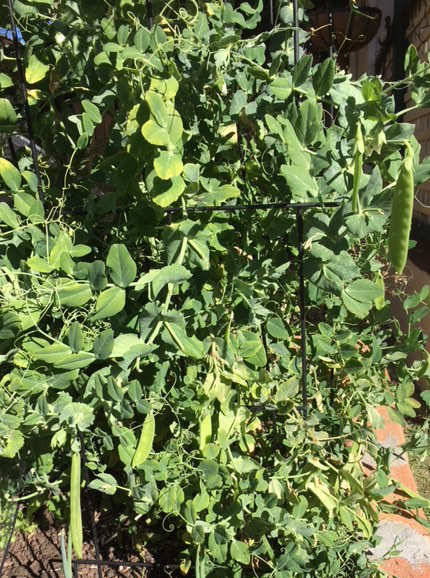 It's just as important in summer to plant varieties that are not as tolerant to the sun and heat in the more sheltered or shaded part of the garden.
These snap peas growing on Whites Vegie panels and have supplied a crop all through winter as they are in the warm part of the garden, however they will not survive the heat once it warms up.
There is a new crop on the way in a slightly more sheltered area and you can see that it's loving the warmer spring weather that's already here and is rapidly climbing up the vegie panels.
Until next time,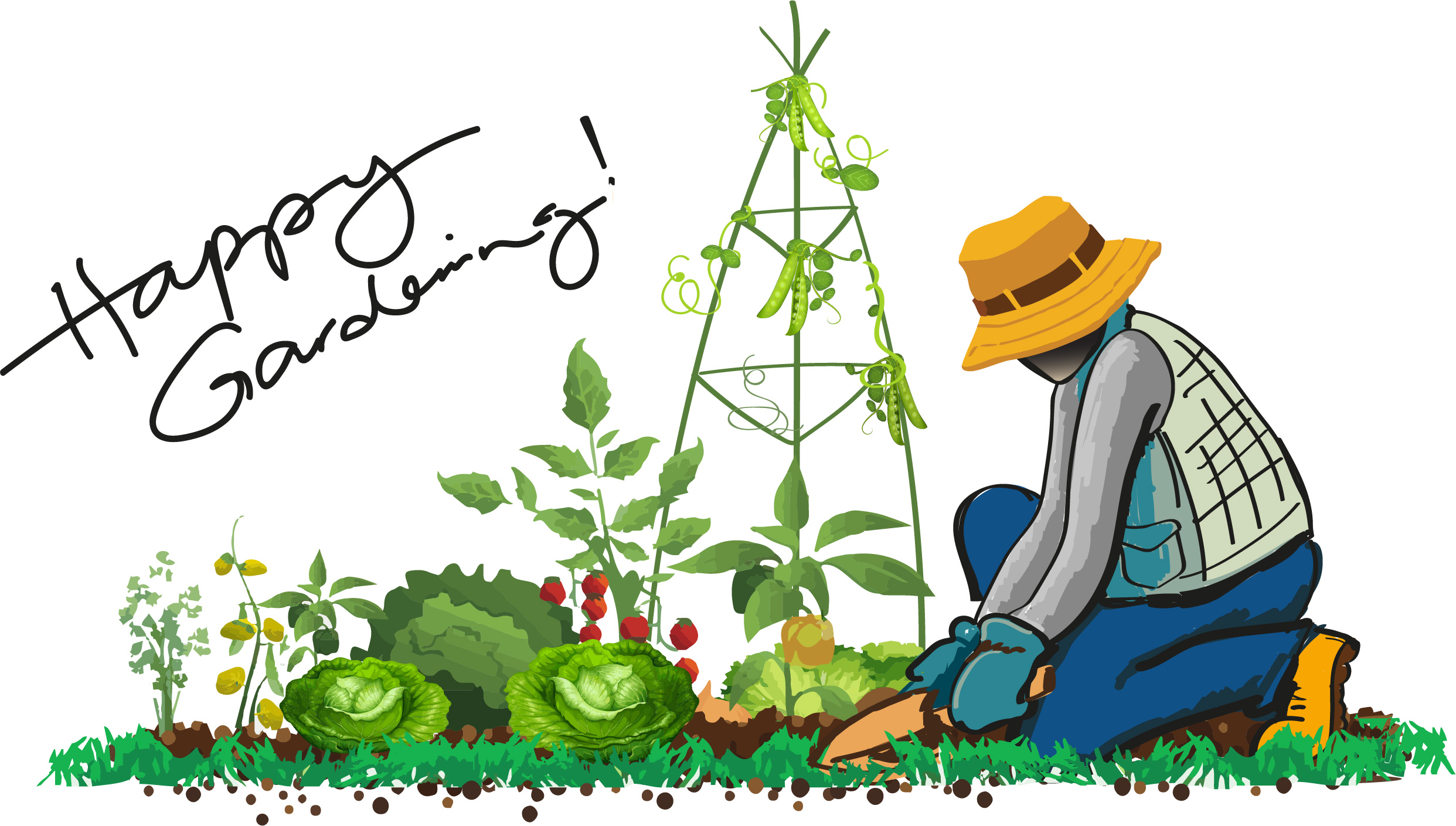 ---