Outside cat enclosure to protect wildlife.
One of our customers recently got in touch with us and sent some photos to show how pleased they were with the new cat enclosure they made using Whites SupaNet. While we don't specifically recommend using SupaNet for animal enclosures, we love what Philip has done to keep his cats in and protect local wildlife. The fence is almost invisible and easy to setup.
---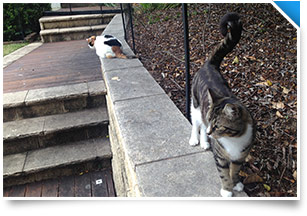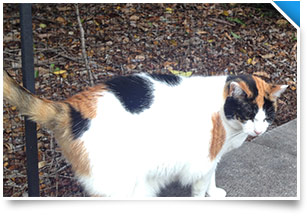 Here is the letter from Philip:
In 2014 my partner and I moved here from South Africa with our three rescue cats. A week after moving to the Upper North Shore in 2015, our 9 year old ginger was bitten by a paralysis tick. She almost died, but luckily she pulled through. Seeing her suffer like that and being slammed with a $1000 vet bill, we realised that we needed to find a solution to keep our cats from roaming in our garden and beyond.
Since we lived in a rental property, I had to find a non-permanent solution that wouldn't cost us an arm and a leg. The enclosure had to look slick with clean lines and virtually invisible, having more of a 'floating nature.' I didn't want to turn our lovely garden into a prison! Also would be great to build something which could be easily removed and reused.
---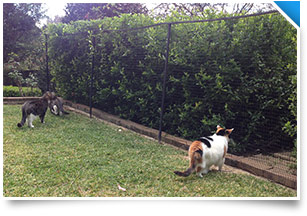 After experimenting with various materials, I discovered SupaNet and came up with the solution as shown in the pictures attached. You will notice in the panoramic picture that it's virtually invisible! It has been amazingly effective, offering the perfect balance between enjoying the aesthetic of our garden, and keeping our furry friends from wandering off. To remove and reuse it is very simple.
I now offer my services to other cat lovers in Sydney, hoping to offer them the same peace of mind we have been enjoying every day since building our enclosure with SupaNet! I really hope it is safe, as in our conversations it seemed like it may not be the ideal product.