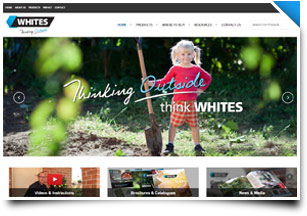 Whites Group has a new website
To mark the arrival of our new Whites Thinking Outside brand, we have re-freshed and re-built our Whites Group website to capture the essence of the brand.
As the Thinking brand and a key conduit to consumers, the website provides more valuable information for DIYers and Trade end-users.
The new website holds product and brand information on all our home improvement products. In it's simplest form it is a knowledge base identifying our product ranges, providing detailed information and images.
We have also introduced brand pages under the Resource tab highlighting the benefits of our hero product ranges like Retain-it, Screen Up, and Garden Up. Our Resource tab also plays an aspirational role in that it provides link to videos, brochures, handy hints and how-to information.
This is the first phase of our website and we will continue to improve the consumer interface to build our brand.
Thinking Outside, Think Whites
Whites Group Pty Ltd proudly boasts two key brands: Whites Thinking Outside, our brand for home improvement, and Whites Rural servicing the rural market segment. Whites Rural website can be found here.
---